Photo Gallery
Soroco wrestling at West Grand tournament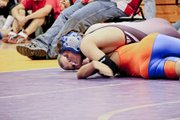 2011-12 Rams wrestling schedule
Steamboat Springs — The Soroco High School wrestling team picked up a trio of top finishes Saturday at a tournament in West Grand.
Lauryn Bruggink was second at 106 pounds, Cody Constine second at 182 pounds and Colton Martindale fourth at 133 pounds.
"All the kids are hitting moves well when they hit them," coach Jay Whaley said. "As a team, we need to continue to finish the moves we start and to execute them with a little more authority."
The Rams return to action Jan. 6 at Eagle Valley.
"I wish we were a little further along. We have some improvements to make," Whaley said. "If these kids are going to achieve the goals they put down, they'll have to work a little harder and execute the moves a little better. We still have a lot of wrestling, so we'll see what happens."