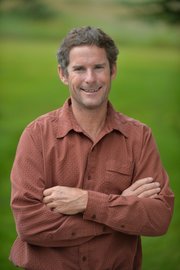 Photo Gallery
Return of the daffy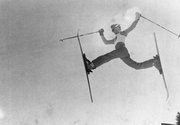 Steamboat Springs — Editor's note: This is an updated take on Eugene's first column about the daffy, which appeared in a 2008 issue of Skiing magazine.
At an aerials competition in Steamboat Springs in 1976, my oldest brother, David, went for a quad daffy, crossed his skis on number three, and woke up in the hospital. Later, we'd know this variation as the "Screamin' Seaman," but it's a mistake you unintentionally make only once.
So why is the daffy — that glorious, crotch-ripping badge of courage involving one or more midair splits — tainted with dorkdom? Pop a daffy under the lift today and you're considered an ironic hipster or a loser. It's a shame because the daffy is one of skiing's marquee stunts — one that, unlike a cork 540, still is within the grasp of every man.
Its place in the annals of aerial maneuvering is hallowed, with cameos in everything from "Hot Dog … the Movie" to Warren Miller reels. Credit this to its difficulty compared with its more mundane cousins, the twister and spread eagle. The daffy was how you earned your true stripes on the slopes. It takes guts — and big air — to mock gravity with your tips and tails like that and then get them back underfoot in time to touch down. Lose it on a twister? Who cares? But screwing up a daffy means exposing your family jewels to the mountain's whim. Of all upright aerials, the daffy places you in the worst crash position imaginable, which is its bane and its beauty.
"It was definitely the marquee move of its day," former freestyle competitor, coach and longtime local Park Smalley said. "The spread eagle was the easiest, and the daffy came next ... but there was always the fear factor of catching that tip."
In typical one-upsmanship, people couldn't get enough of a good thing and soon began linking the signature move. Smalley said aerialist Chris "Fuzz" Feddersen once linked five of them together, each one extending past the 180-degree, groin-pulling split mark. "Fuzz had the best daffies of anyone," said local Olympian Nelson Carmichael, who won the bronze in the bumps at the 1992 Winter Games.
As for the tip-catching, my moment came on a simple double-daffy attempt on the back side of Lake Eldora. One stride, two strides, a cross and a bone-rattling crunch. It psyched me out for years, relegating me to lamer splitsters — a weak alternative with the splits off to the side — for the duration of my daffy career. And you also could catch your tips on other things. Smalley remembers a Tequila Cup event in the '70s when he hit a jump, threw a daffy and accidentally soared in his splits over the perimeter fence and out of the course. "It got high points," he recalled this week.
Do it right, however, and it's pure Picasso. Nowhere is this illustrated better than on a black-and-white poster hanging in my mom's living room in Boulder, showing my other brother, Stephen, throwing a heroic daffy off a homemade kicker in Chautauqua Park, the Third Flatiron framed perfectly between his outstretched, Nadia Comaneci legs. For me, that represented skiing at its finest.
"Daffies were iconic because the good ones looked great from any angle," Carmichael said. "They felt great, too, seeing how far you could stretch, using your skis' momentum to swing your feet."
The irony is that the move disappeared just as skis began getting shorter, which actually made daffies easier than they were when we boosted them on tip-grabbing 205s.
So to all you closet daffy-throwers out there, let's resurrect this classic spacewalk on skis. Let's raise our glasses and throw back a beer to raising our tails and throwing back our tips. Pick a catwalk, mogul or other lip, throw one foot forward and the other back, and moonwalk on Mount Werner, unleashing a move that for too long has been nudged backstage by mute grabs, corks, rodeos and mysties.
Think globally, daffy locally.
Eugene Buchanan is the magazines editor at the Steamboat Pilot & Today. Contact him at 970-870-1376 or ebuchanan@SteamboatToday.com.