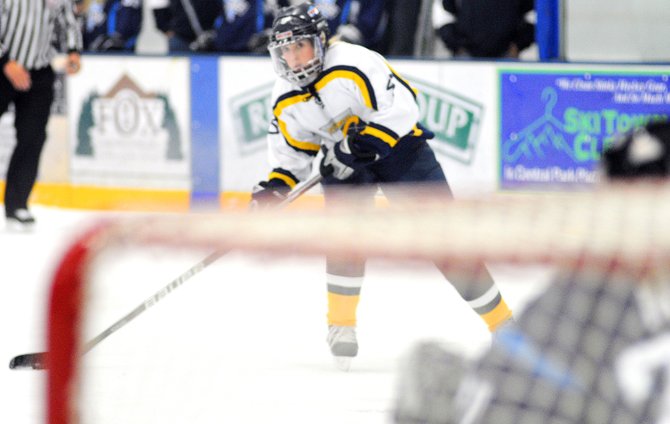 Steamboat U16 girls hockey team skates to 3rd in tourney
Girls win Sunday to wrap up weekend tournament
Sunday, December 11, 2011
Steamboat Springs — The Steamboat Springs U16 girls hockey team mixed good play with average Friday and Saturday, going 1-1-1 in the Adele Dombrowski Memorial Girls Hockey Tournament at Howelsen Ice Arena in Steamboat.
But by Sunday afternoon, there was nothing but great, and the team was happy and excited as it locked up third place in the tournament, finishing the weekend with some of its best hockey.
Steamboat beat Colorado Select U16, 3-0, in Sunday's consolation match.
"That was a good game," Steamboat's Aleigh Aurin said. "The weekend was a lot better. It's a lot of fun to get to play at home and have our friends and family watch us as we get better."
There were two local teams in the annual tournament, which stretched from Friday through Sunday at the ice arena. Steamboat fielded two teams, the U16 squad and a U12 group that was one of just two in that age group. That Steamboat team played a Telluride squad three times and won twice, 5-1 and 6-1, before losing Sunday, 7-4.
It was an up and down weekend for Steamboat's U16 girls. They were disappointed with a 3-3 tie against Durango, happy with a 5-0 preliminary round win against Colorado Select and pleased with a 2-1 loss to highly regarded Aspen.
"Aspen's the class of our league and I thought we actually had the better of the play," Steamboat coach Fred Power said. "I don't like to talk about moral victories, but the girls were as happy as they could be even though they lost 2-1 because they played their best game of the year."
They had little trouble picking up the win in their final match Sunday. Kelly Borgerding got Steamboat on the board with a goal early in the second period and the team added a score a few minutes later.
Aurin provided one final goal in the third period to set the final score.
"It was a successful tournament for sure, even coming in third place," Power said.
To reach Joel Reichenberger, call 970-871-4253 or email jreichenberger@SteamboatToday.com