Photo Gallery
Merry Mainstreet celebration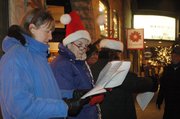 Mainstreet Steamboat Springs hosted the annual Merry Mainstreet celebration Saturday evening on Lincoln Avenue in downtown Steamboat Springs.
Steamboat Springs — As she walked with her "snowman swagger" down Lincoln Avenue on Saturday evening, Kyle Paolantonio saw children's faces light up as she passed and watched them stumble over one another to get a glimpse of the life-sized Frosty the Snowman.
"There's nothing that gets me into the Christmas spirit like being around children," Paolantonio said.
That spirit was what motivated her to dress up in the white costume for the third year in a row, representing Off the Beaten Path Bookstore in the annual Merry Mainstreet parade.
Along the way, the youngsters begged to have their picture taken with her, pulled on her carrot nose and some of them even cried.
But despite some children's shock at meeting Frosty and Santa, the warm lights and shouts of "Merry Christmas" and "Hi, Santa" had Lincoln Avenue bubbling with holiday cheer throughout the event.
"I just think it's great whenever they shut down Main Street," Paolantonio said. "It brings out of the small town feel of Steamboat. This is the best time of year to be here."
The twinkling lights of the parade are a major draw for the event, which is put on by Mainstreet Steamboat Springs to attract locals and visitors to downtown Steamboat to support local businesses.
Stores offered specials, hot chocolate was served on the street and every third person wore some variation of a Santa hat.
After the parade, Amber Anderson took her two daughters to sit on Santa's lap at Ski Town Lifestyle Properties, where they asked for American Girl dolls and Beanie Babies.
"We really enjoyed the parade and walking around some of the stores that we don't always get to see," she said. "I definitely did some Christmas shopping."
Just in front of the Andersons were the Mitchell family, and 4-year-old Ellie couldn't wait to meet Santa and ask for an iPod.
"I want to see Rudolph; I think they park somewhere," Ellie said.
After the parade and while the line to visit Santa died down, a few groups of carolers were stationed in the street for the first Great Steamboat Caroling Contest.
A singing troupe of Creekside Cafe employees and their families calling themselves the Creekside Carolers summed up the festive event with their fresh take on a holiday classic:
"Steamboat bells, Steamboat bells, Steamboat all the way," they sang to several smiling onlookers. "Oh, what fun it is to live in Ski Town USA."
To reach Nicole Inglis, call 970-871-4204 or email ninglis@SteamboatToday.com