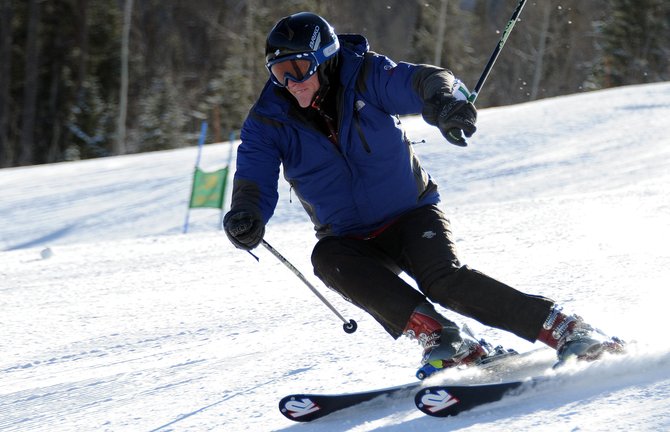 Carolina racers head to Steamboat to fill need for speed
Saturday, December 10, 2011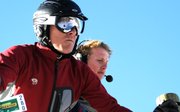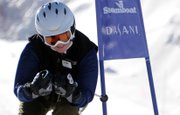 Steamboat Springs — It was all there. From the tuck to the turn, everything screamed "elite ski racer."
It was the twang, however, that signaled this was something a bit different.
The Crescent Ski Council is an organization of 21 ski clubs in North Carolina, South Carolina, Alabama, Georgia, Tennessee and West Virginia. The group boasts 3,500 members, and every year about 250 of them make the trek to Steamboat Springs for a week of guided skiing. About 50 of those don't come for the food or the drinks, the sights or the springs.
They come to race, and Friday afternoon, the streaks of skiers tearing down Mount Werner and through courses of gates did so just like so many others will this winter. But these racers did it with a distinct Southern drawl.
Best way down
The week's skiers were split into groups of about eight, and everyone in the top group hailed from either North or South Carolina. They bore several significant traits in common with their Ski Town USA brethren. They love the snow, and they love the race. Friday marked their sixth day of work on the Steamboat slopes. They started early with a few practice laps on the Bashor Bowl course, ran two "official" timed laps for the Crescent Ski Club on that long giant slalom course, then decided to make one more run through the gates, this time on the NASTAR course.
They all met at the bottom, assessed their times and agreed one more trip through was in order. That turned in to two more, and finally, one last time "before lunch." One skier got separated from the group at that point and headed for the cafeteria, but his classmates reneged on their word and all went back up to the top of the course again.
Four members of the group finally skied down to the gondola, on their way to eat. They probably wouldn't have, however, had they seen their three final classmates slip one last time back into the Bashor chairlift line.
"I still didn't get him," Greg Sowers said when he finally ambled into the Thunderhead cafeteria, at least momentarily giving up his attempt to chase down classmate's Robin Hood's NASTAR course time.
He didn't seem content, though he gave in to a smile that seemed a mask for his disappointment and at the same time a hint that he'd probably get over it.
The group represented the fastest of the Crescent skiers, and in many ways, they were similar to Steamboat's dedicated racers. They weren't alike in every way, though, and the differences were greater than opinions on Tarheel basketball and where the country's best barbecue hails from.
Each drives at least two hours for a single day of skiing, and they often can make that trip in short-sleeves.
These weren't former racers who spent their childhoods racing to the slopes with the sounding of the school bell. The sport didn't come ingrained in their way of life. They all had to seek it out, to add it, and together they make for a uniform bunch.
"We'll usually have a Christmas party with all of our friends," Caron Sowers began, "because we know we won't see them again until March."
They discovered they loved to ski, and in their minds, racing is the best way to do it.
Where they're from, temperatures are warm, resorts are small and lift lines are long. Powder days are so rare that they border on being a figment of the imagination, right there in the netherworld with backcountry access and extreme terrain.
Racing offers a whole new way to experience the sport.
"We just got bored with skiing so we started racing," Deb Hood said. "Now we enjoy the people, the camaraderie. It's a great group."
Time to race
They love the workshop's consistency. They love that they can take a 20-year break from it, as Greg Sowers and Caron Sowers did, come back and have the very same instructor.
"When you have the same one over and over again, they can really work on something with you," said Michael Stern, who took no such break and still has little trouble finding portions of his form that he'd like to tighten up and improve. "That really brings a lot to it."
For most of those years, the man behind the technique and the tips has been Kris Hagenbuch, who long ago earned a coveted spot in each racer's cellphone directory. Throughout the years, he helped guide through the transition from straight to shaped skis, from fast to scorching, and up, down and all around Mount Werner.
Hagenbuch actually got hurt early in this year's camp and Steamboat instructor Erik Trabka stepped in to be bombarded for pointers and tricks by a group eager to shave even just a fraction of a second from its times.
The camp has remained much the same, the regulars concluded. The schedule has varied little in nearly three decades. Many of the faces are the same.
Most of the change has come from Steamboat, which has exploded in those years, and in the technology of skiing.
"I don't think we'd be skiing any more if it weren't for shaped skis," Stern said. "At least we wouldn't be racing."
That comment drew some long looks from his classmates.
"We'd still be out there racing each other on shingles," Caron Sowers said. "We'd still be yelling 'I'm gonna get you!'"
She seemed right as the crew got up from lunch and prepared for its final afternoon on the mountain.
Trabka asked what they had in mind, where they wanted to go.
"Group freeskiing?" he asked to several nods and affirmations.
The idea didn't seem to take, however, and an eager voice cut through.
"Maybe we could run some gates."
To reach Joel Reichenberger, call 970-871-4253 or email jreichenberger@SteamboatToday.com