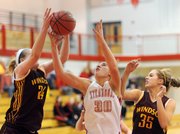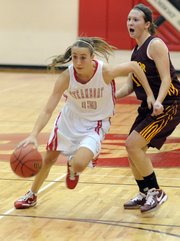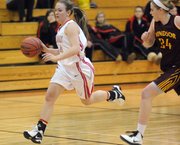 Game statistics
Windsor girls 59, Steamboat Springs 29
Windsor 17-12-11-19 — 59
Steamboat 0-4-13-12 — 29
Windsor — Whitnee Pearcey 0 2-3 2, Amy Jo Harriss 2 0-2 4, Miranda Geist 3 0-0 6, Korbyn Ukasick 3 4-5 13, Kellie Ash 4 5-8 16, Alysa Manicone 0 0-0 0, Brooke Pemberton 5 0-0 10, Amanda Young 0 0-0 0, Maggie Griggs 1 4-6 6, Taylor Hilim 0 0-0 0, Hannah Thornton 1 0-0 2, Sophie Griggs 2 1-4 3. Totals 20 15-28 59.
Steamboat — Alex Feeley 2 2-2 2 6, Sydney Bauknecht 0 1-2 1, Nikki Fry 6 0-4 12, Megan Stabile 2 0-0 4, Jessie Wallace 1 0-0 2, McKenzie Repollo 1 0-0 2, Alice Holmquist 0 0-0 0, Maggie Crouch 0 0-0 0, Ashley Spitellie 0 0-0 0, Amaris Duryea 1 0-0 2. Totals 13 3-8 29.
3-pointers: Windsor (6) – Ukasick 3, Ash 3. Steamboat (0).
Steamboat Springs — Thursday night's game certainly is not the way the Steamboat Springs High School girls basketball team wanted to start out.
Steamboat went scoreless for more than a quarter and a half Thursday in the opening round of the Steamboat Springs Shoot-Out, eventually falling to Windsor, 59-29.
The Sailors (2-1) started the game with five straight turnovers and didn't score until Megan Stabile made a layup with 3 minutes, 52 seconds left in the second quarter to cut the lead to 20-2.
"Slow start doesn't do that justice," Sailors coach John Ameen said. "We came out hard, but we didn't come out ready. There is a difference. You have to be able to do things right. We started the game with five straight turnovers, and you just can't start a game like that."
Windsor got contributions early on from all over the court. The Wizards had six players score in the first half and were clearly the more aggressive team. Windsor shot 27 free throws in the game to Steamboat's eight. 
"There were a lot of nerves at the beginning of the game," Ameen said. "Sometimes that translates into good things. (Thursday) it translated into bad things. We were all out of sorts."
Steamboat, down 29-4 at half, started to show some signs of life early in the third quarter. The Sailors started the frame on a 10-1 run, paced by four points each from Alex Feeley and Nikki Fry.
Steamboat actually had cut the lead to 30-14 with 5:12 left in the third quarter when Windsor's Kellie Ash and Korbyn Ukasick hit back-to-back 3-pointers to give the Wizards a 36-14 lead.
"We just didn't start well," said Fry, who led the Sailors with 12 points, including 10 in the second half. "It was a later game, and I don't think we took the time to get ready. We ended up picking it up, but it wasn't nerves."
Steamboat has its hands full again Friday when the team plays Montrose.
The two teams play at 4:45 p.m. in the Kelly Meek Gymnasium.
"We have to come out and execute better," Ameen said. "It's really that simple."
Friday's schedule
3 p.m.
Moffat County boys vs. Green River, new gym
Green River girls vs. D'Evelyn, auxiliary gym
4:45 p.m.
Steamboat Springs girls vs. Montrose, new gym
Conifer boys vs. Castle View, auxiliary gym
6:30 p.m.
Castle View girls vs. Windsor, new gym
Windsor boys vs. Montrose, auxiliary gym
8:15 p.m.
Steamboat Springs boys vs. D'Evelyn, new gym
Fossil Ridge girls vs. Moffat County, auxiliary gym
To reach Luke Graham, call 970-871-4229 or email lgraham@SteamboatToday.com