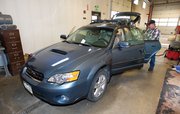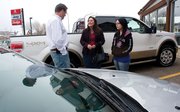 What about green cars?
Fred Robinson, a South Routt advocate of natural-gas-powered cars, trucks and buses, said cars designed to burn ethanol are the most evident alternative fuels vehicles in Routt County.
Ethanol, E85, is available at the Southside Station Shell outlet.
Robinson said he would like to see a natural gas route of refueling stations in Utah, which links to Vernal on U.S. Highway 40, extended into Colorado and through Routt County.
Southside's Steve Peterson said the high cost of grain right now is making E85 (corn) and biodiesel (soy beans) relatively expensive.
"Our cost on those two is almost $4 a gallon," Peterson said. "We have some diehard biodiesel users, but they've not been big sellers at all. The price of grains is way up.
"Biodiesel is a great fuel. But if I could drive home at night and plug into natural gas, I'd love it."
Steamboat Springs — Automotive dealers in Northwest Colorado say things are looking up, but a return to the sales they were doing five years ago still is a ways off.
"We're up a little. We've been up every month this year but one, compared to the same month last year," said Scott Cook, of Cook Chevrolet and Subaru in Steamboat Springs and Craig. "But it's a long road back from where we were a few years ago. It has to come back faster than it has this year, or we still won't be doing anything close to what we were doing two or three years ago."
Still, there are some interesting changes in the car-buying preferences of Northwest Colorado residents. This always has been a pickup and sport utility vehicle market, but some of the new models coming out of Detroit are making a dent, dealers agree. The hot-selling Chevrolet Cruze sedan, with 10 airbags and 36 miles to the gallon in highway mileage, has found a market in Craig.
"We've sold a lot of them," Cook said. "It has to be 15 or 20. It's a more fuel-efficient front-wheel drive that feels a lot bigger than it is. It's a quiet car."
With desirable options, it still comes in less than $20,000, Cook said.
Jeff Steinke, of Steamboat Motors in Steamboat, said his dealership is making progress, too.
Steamboat Motors is selling more passenger cars as opposed to the F-150 Ford pickups and SUVs that have dominated this market.
"Car sales are definitely up. We have 11 cars on the lot, and typically, this time of year I'd be comfortable with no more than two," Steinke said.
Cook said Subaru dominates the small-car market in Steamboat and nationally. Subaru has been able to chart sales growth despite the effects on its manufacturing capacity after the earthquake in Japan, he said.
Steinke is finding that pre-owned, midsized SUVs, including Ford Explorers and Toyota 4Runners, are in high demand.
"Jeep Libertys go right out," Steinke said.
Steinke said his dealership's new-car sales are up this year in the range of 10 to 12 percent, and he attributes some of that to modest improvements in consumer confidence nationally. Typically, one might expect used-car sales to be stronger in a difficult employment market, but nationally, new car sales are stronger than used vehicles.
The motor vehicle licensing and registration staff at the Routt County Clerk and Recorder's Office has been busy this year with lines out the door on many days, with a significant number of those people changing titles for used car purposes and obtaining titles for new car purchases.
Spokeswoman Barbara Bond said her software and reporting capability does not break out monthly and annual reports of local used and new car titling activity. She added that some of the activity is the result of someone adding or removing a name from a vehicle's title, making it even more challenging to track actual sales based on title changes.
Cook said he receives sales reports from automakers that allow him to monitor his dealerships' market penetration with different makes and models of cars in comparison to markets similar in size across the country.
Steinke said he periodically pays a fee to obtain a report on regional and national sales trends for specific models of used vehicles to help him tweak the mix on his sales lot.
Steinke, who has a degree in behavioral sciences and worked in that field for seven years, said subtle changes can affect people's willingness to buy.
"November was going blockbuster until the last 10 days," he said. "Sometimes, a change in the weather can make people disappear."
Steinke said his dealership studies and quantifies every piece of data it can get its hands on, including the ratio of the number of people who walk onto the lot to look at vehicles to the number of sales that result. Those customers are called "ups," after the habit of car salesmen to look at one another and say, "You're up."
"We've found that if we can get six or 6 1/2 ups a day, we'll have a pretty good month," Steinke said.
In general, Steinke said he thinks that despite the rugged economy and employment picture in Northwest Colorado, well-established consumers are regaining their confidence in their situations, and because many have been deferring car purchases for several years, demand is returning.
"Our real estate and construction industries (during the boom days) were like a super sugar high, but people are deciding that most things in their world haven't changed," Steinke said.
He took encouragement from a recent Mainstreet Steamboat event that seemingly would have little to do with the automotive industry.
"I went downtown that night they had chocolate in all the stores," Steinke said "It was so busy, you couldn't get into some places. When that happens, it's good for us. We're in a trickle-down business."
— To reach Tom Ross, call 970-871-4205 or email tross@SteamboatToday.com