Steamboat's ice cream options
■ Ciao Gelato, 700 Yampa St.
■ Cold Stone Creamery, 2032 Curve Plaza and 1815 Central Park Drive
■ Dairy Queen, 1755 Central Park Plaza
■ Fuzziwig's Candy Factory, 845 Lincoln Ave.
■ Johnny B Good's Diner, 738 Lincoln Ave.
■ Lyon Drug, 840 Lincoln Ave.
■ Mountain View Car Wash, 150 Trafalgar Dr.
■ Rocky Mountain Chocolate Factory, 624 Lincoln Ave.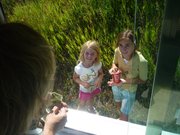 Steamboat Springs — A city that experiences six months of winter has a steadily increasing number of places that serve up dishes of an ice cold dessert.
That's right, Steamboat is approaching a dozen places where residents and visitors can get a cone, shake, soft serve, gelato or other ice cream treat. And one of the newest members of the ice cream club might remind Steamboat adults of their childhoods.
Buffalo Gal Ice Cream & Goodies, an ice cream truck that serves Routt County, started last fall and operated for about six weeks before snow fell in October. Owner Ruth Abate resumed selling this summer in mid-July.
City ordinance allows Abate to vend from sunup to sundown in residential neighborhoods, industrial areas and commercial areas where she's invited. She sells "probably every frozen novelty you can think of" ranging in price from 50 cents to $4.
She hits the streets from about noon to 7 or 8 p.m. Tuesdays through Sundays: Whistler Road to Haymaker Golf Course on Tuesdays, Fish Creek Falls Road to Hilltop Parkway on Wednesdays, in Hayden on Thursdays, in Old Town on Fridays and in Steamboat's west side on Saturdays. On Sundays, she goes wherever she missed.
Abate said she tries to get to every street in every Steamboat neighborhood. And in addition to her regular route, she has ventured to North Routt and sold at the Moffat County Fair in Craig.
"It's been great fun," she said. "It's been really well received. It's a real nostalgic thing for adults, and kids get really excited about it."
She's not kidding.
Youths, from just a few years old to high school age, chased Abate on foot and in cars Wednesday afternoon when they heard one of eight tunes coming from her baby blue truck. She said it's not uncommon to be pursued by kids on bikes and skateboards. Even adults run after her.
Some are familiar with ice cream trucks after having lived in or visited other cities where they're more common.
"In the 15 years I've lived here, I've never seen an ice cream truck," said 15-year-old Sam Scully, a freshman this year at Steamboat Springs High School. "It's pretty cool."
Abate said she and her husband, Francis Abate, got the idea for the ice cream truck while on a family trip to Salt Lake City. The couple, who moved to Steamboat 12 years ago from Washington, D.C., were driving through Vernal, Utah, when they saw an ice cream truck for sale.
They passed on that truck, Ruth Abate said, but seeing it planted the seed. She said they thought they could fill a niche in Steamboat.
While the number of places to get ice cream in Steamboat is nearing double digits, they're all different.
There are national chains Cold Stone Creamery (with two locations in Steamboat) and Dairy Queen, old fashioned milkshakes and malts at Johnny B Good's Diner and Lyon Drug Store, cones at Fuzziwigs Candy Factory and Rocky Mountain Chocolate Factory, soft serve at Mountain View Car Wash and Italian gelato at Ciao Gelato. On top of that, the Steamboat Springs City Council approved a permit July 19 for a vendor to sell ice cream from a stationary cart on property in the 600 block of Yampa Street.
And now there's Buffalo Gal.
"It's a whole different niche," Ciao Gelato owner Lynne Romeo said. "The more businesses we have in Steamboat, the more choices that we give to our tourists and our locals. It's good for everybody. It's good for a healthy economy."
Romeo said Ciao Gelato has carved out its own niche. Lyon Drug has its own, too, co-owner Wendy Lyon said. She said competition is good but that the drugstore offers its customers a different experience, one that takes them back to a time when soda fountains were more common.
Abate said she doesn't see herself as competition because, like the others, she is different.
"There's just something fun about a truck that comes by and sells you ice cream," she said.
— To reach Jack Weinstein, call 970-871-4203 or email jweinstein@SteamboatToday.com