If you go
■ Saturday
10 a.m. to 6 p.m. Yampa River Art Stroll on Yampa Street, with culinary demonstrations from 1 to 5 p.m. Free.
10 a.m. to 1 p.m. Workshop: "Values and Layering in Watercolor Painting" with Susan Corser at Bud Werner Memorial Library. $15.
2 to 4 p.m. Workshop: "Will in Today's World," with Stuart Handloff at the Art Tent. $15.
2 to 5 p.m. Workshop: "A Nature Photo Shoot," with Judy Jones at Fish Creek Falls. $15.
7:30 p.m. Emerald City Opera Faculty Cabaret at Perry-Mansfield's Julie Harris Theatre. $20.
7:30 p.m. "Dirty Deeds at the Depot" at Depot Art Center, a family friendly melodrama. $12.
■ Sunday
9 to 11 a.m. "Breakfast at the Bookstore — The Art of Writing: A Conversation with First-time Authors" at Off the Beaten Path Bookstore. Free.
10 a.m. to noon Workshop: "Acting Made Easy," with Stuart Handloff at Bud Werner Memorial Library. $15.
10 a.m. to 3 p.m. Yampa River Art Stroll on Yampa Street. Free.
3 p.m. Emerald City Opera's Artist Institute presents "Hansel and Gretel" at Perry-Mansfield's Julie Harris Theatre. $15.
Punch cards are available for workshops.
Yampa Street will be closed from Fifth to Seventh streets Saturday and Sunday.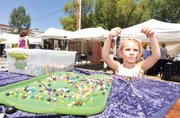 Steamboat Springs — Noah Woodford, 6, gazed around the booth, playing with a homemade necklace that he had just made while his younger brother, Liam, 5, asked a flurry of questions of local sculpture artist Sandy Graves.
"What is that?" he asked, pointing at one of Graves' pieces on display at the Yampa River Art Stroll.
Then he pointed again. "What is that?"
Graves responded with a patient smile, sharing the story behind each of her abstract wildlife sculptures.
"Being an artist can be a lonely business, and I'm not a solitary person," Graves said. "I really enjoy being able to mix it up and meet people and share the work firsthand."
The Art Stroll is a part of the third annual Steamboat All Arts Festival, which pulls together a variety of performing arts events, workshops, live music and the centerpiece that is the Art Stroll into a cohesive celebration.
The Art Stroll continues Saturday and Sunday and has a little bit for everyone.
Noah said he enjoyed making his own necklace, a free activity offered on the stroll.
"My favorite was a lady that uses cement and these bottle caps," he said about the artists he saw.
Other children were mesmerized by Leo Atkinson's geode-popping contraption, which revealed sparkling discoveries inside various rocks.
But while the children had their faces painted and ate almonds, the adults on the Art Stroll had the chance to peruse the 40 booths of local and national artists and talk shop about a variety of artistic mediums.
Graves, one of the four local exhibits at the Art Stroll, has been a part of the event since its inception three years ago.
She said she's watched the event evolve from its infancy.
"It's a great show," she said. "It's great to do a show on your home turf, where you know everyone walking by and you get to visit with your neighbors. You get to interact with the public in a very laid-back setting.
"And they really pick quality artists."
Two booths down, painter Katherine McNeill said she was taking part in her first All Arts Festival. But the Larkspur-based artist has been painting for several decades.
"This is 37 years of my life and soul," she said, gesturing at her textured, impressionistic oil paintings that depict brightly colored aspen tree landscapes. "You want your painting to speak to people, but you have no idea how it's going to happen."
McNeill wasn't alone at this show. She applied to be a part of the juried Art Stroll because her daughter, a painter of two years, had been accepted and she wanted to share the weekend with her.
Linda Denison also works in oil on canvas, and her bright florals complement her mother's work.
"They have to find it on their own," said the proud mother, who never pushed her daughter to paint.
But two years ago Denison first picked up a brush to try her hand at painting flowers and was accepted into art shows within a year.
"She's done incredibly well. Just sitting having lunch together, it's like speaking the same language."

In addition to the visual arts, local musician Trevor G. Potter strummed away on his guitar and by mid-afternoon the air was filled with culinary aromas from a cooking demonstration by a chef from Steamboat Meat & Seafood Co. The demonstration ended in a light pasta puttanesca with shrimp.
The stroll will offer another culinary demonstration from 1 to 5 p.m. Saturday, featuring renown chef Zakary Pelaccio from Brooklyn, N.Y. A variety of Colorado wines are available for purchase.
Saturday also will bring the opportunity for more artistic interaction with workshops in watercolor painting, a nature photography hike and a Shakespeare talk.
For more information, an event schedule and tickets, visit www.steamboatallartsfestival.com