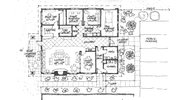 Steamboat Springs — The city of Steamboat Springs released plans Monday for the new fixed-base operator facility at Steamboat Springs Airport.
The 2,700-square-foot, single-floor facility will include offices, a pilot's lounge and restrooms accessible after the building closes for the night. The facility is for the operator of the general aviation airport a mile up Elk River Road in west Steamboat.
The new building is necessary because SmartWool is taking over the existing operator space as part of its expansion and lease extension that is expected to keep the merino wool outfitter in Steamboat through 2022.
Steamboat Springs City Council members unanimously approved a second reading of the expansion and lease agreement Aug. 2.
Deputy City Manager Wendy DuBord said the new facility is smaller than the existing 3,000 square feet used by the fixed-base operator. The current building was constructed at a time when a passenger waiting area and airline offices were needed for commercial flights into Steamboat. The airport no longer supports commercial airline service; those flights go to Yampa Valley Regional Airport in Hayden.
DuBord said the city is soliciting requests for proposals for a manufactured facility that could be installed in sections, or new construction. The deadline to submit is Aug. 25.
The goal is to complete foundation work and close-in the new building before winter, DuBord said. She said construction would resume in the spring and be completed by April, when SmartWool is scheduled to take over the existing operator space.
DuBord said the city is paying the upfront costs of the $330,000 project but would be paid back by SmartWool, according to the terms of the two entities' lease agreement.
The Yampa Valley Airport Commission reviewed the plans for the fixed-base operator facility last Thursday.
Doug Monger, who serves on the Airport Commission in his capacity as a Routt County commissioner, said the new operator facility is great for everyone involved.
"While the current one is deficient in some manner, it probably would have sufficed moving on," he said. "But with the SmartWool space and lease and the rest, this probably works out better for the community to have a new space for the pilots and the crews."
DuBord said she's excited about the project, which is her last major assignment before she retires after nearly 19 years with the city. Her last official day is Oct. 3. She will work half time through November.
"I've been a real big supporter of the airport during my career and SmartWool since it has been a partner with the city," she said. "This is a really fun project to end my career with."
To reach Jack Weinstein, call 970-871-4203 or email jweinstien@SteamboatToday.com