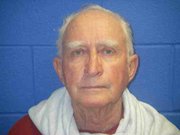 Steamboat Springs — The owners of the black Labrador retriever who was shot and killed in Steamboat this spring have filed a lawsuit seeking at least $15,000 from the man who admitted to the shooting.
The criminal case related to the shooting of the Arnone family's dog wrapped up in June.
Del Herman, 70, initially denied to police that he had shot the dog, but he was arrested after a witness linked him to the crime. Herman was taken to jail and later confessed. The .22-caliber gun used in the shooting was found underneath insulation in the attic of Herman's shop building.
On May 24, as part of a plea agreement offered by the Routt County District Attorney's Office, Herman pleaded no contest to aggravated cruelty to animals, a Class 6 felony, and reckless endangerment, a Class 3 misdemeanor. District Court Judge Michael O'Hara chose to sentence Herman to 10 days in jail.
The plea agreement also called for Herman to pay nearly $3,400 in restitution to the Arnone family and perform 100 hours of community service. Herman also is prohibited from possessing firearms and had to donate $750 to the Routt County Humane Society and the Animal Assistance League.
Grant Bursek, an attorney with Oliphant & Associates, filed the civil lawsuit Monday in 14th Judicial District Court on behalf of Patrick Arnone, his wife, Leah, and their daughter, Tess. Del Herman's son Rodney Herman also is named in the lawsuit, though no criminal charges were ever filed against him.
The complaint alleges Del Herman committed civil theft, conspiracy, negligence and committed intentional infliction of emotional distress against the Arnone family.
"Since the shooting, Tess Arnone has been suffering from nightmares," the complaint states. "Her parents have noticed a marked shift in her personality. She has changed from a happy, carefree young girl to someone with a great deal of anger and sadness over what happened to Duke."
The complaint also states the parents have suffered from insomnia since the shooting, and they have "experienced a wide-range of emotions concerning the murder of Duke." The Arnone family also is seeking compensation for moving because they no longer felt safe in their home, and for the value of the loss of Duke as sentimental property.
Ralph Cantafio, with the Law Office of Ralph A Cantafio, is representing Herman. He said Friday that his client admits liability.
"Clearly it was wrong," Cantafio said.
It's going to come down to determining an appropriate dollar amount to make the Arnone family whole, he said.
"I would also comment that Del is not a lottery ticket," Cantafio said.
The two sides have already met with a mediator to try to decide on a dollar amount, but the two sides were far apart and unable to settle, Cantafio said. He would not discuss the specific dollar amounts mentioned during the mediation.
Bursek, the Arnones' attorney, said he could not discuss the amount being sought by his clients.
"That's for a jury to decide," he said.
The complaint states the "issue in this matter exceeds $15,000."
— To reach Matt Stensland, call 970-871-4247 or email mstensland@SteamboatToday.com