2011 Town Challenge schedule
Photo Gallery
Town Challenge Storm Peak Challenge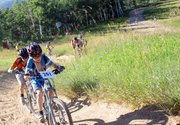 Steamboat Springs — Wednesday's Storm Peak Challenge, the toughest race in the Town Challenge Mountain Bike Race Series, pushed riders like no other event does, driving them up slopes so steep that many in the usually iron-willed field were reduced to hopping off their bikes like mere mortals.
Every part of the course — which ended at the top of Storm Peak for the top-tier divisions and at Rendezvous Saddle for the less-experienced riders — proved the paradox that is one of Steamboat Springs' great tests.
The finish line hung at the top of the Storm Peak Express chairlift, 10,372 feet above sea level and 2,937 feet above the starting line at the bottom of the Thunderhead Express chairlift.
That line truly proved as daunting a goal as the numbers indicate, veteran rider Kathleen Fitzsimmons said. The final few yards weren't just torture, however. They represented the best and the worst of the day.
"The trail was in great shape, and I felt pretty good," Fitzsimmons said. "The Sunshine trail is so fun, you don't notice you're going uphill."
Peter Kalmes won in 52:54, his first win of the season after a string of second-place finishes.
Kalmes found himself equally divided by the grueling route. The worst, he said, came not from the grinding sections in the thinnest air. Instead, he was at his lowest point in the steeps below the gondola, where the weather still was warm and the pitch frequently relentless.
"The start was all fast, then it was still hot, and you were in the sun," Kalmes said. "Once we got up further and on Sunshine (trail), it was shady and finally got cooler. Even then, though, you're like, 'I've only pedaled halfway up the mountain.'
"You do it a lot faster when you're racing this way, but doing it all at once and pushing harder makes it feel longer."
Kalmes fought to his best result of the season thanks to a post-gondola push, when he surged by series-leader Brad Bingham. Bingham missed the podium for the first time this season, struggling against a pair of talented riders: long-time town cycling king Barkley Robinson, who endured a slow start to the season, and young rider Trevor Walz.
Robinson was second in 54:14, and Walz was third in 55:28.
"Brad had a pretty good gap up until Vagabond, and Barkley and I both caught him at Thunderhead," Kalmes said. "Then I went for it."
Tammy Jacques was tops among the women in 1:01:52. Kate Rench was second in 1:11:14, and Katie Lindquist was third in 1:13:56. The win tightens the season-long gap between Jacques and Kelly Boniface, who was out of town for Wednesday's race.
For those fast and slow, Wednesday's race was daunting, but with the pain came real rewards.
"It's a funny thing," Fitzsimmons said, reflecting from the top of Steamboat Springs. "You start and think, 'Gosh, why am I doing this?' Then you get to the top and think, 'Wow, that was great! I want to do it again!'"
Results
Storm Peak Challenge hill climb
Wednesday
Steamboat Ski Area
Pro/open
1 Peter Kalmes 52:54
2 Barkley Robinson 54:14
3 Trevor Walz 55:28
4 Brad Bingham 56:40
5 Alex Pond 56:56
6 Craig Rench 57:12
7 Bo Randolph 58:24
8 Corey Piscopo 1:03:00
9 Jon Cariveau 1:03:31
10 Chad Gruben 1:03:58
11 Tim Nylen 1:06:14
12 Sam Chovan 1:11:17
13 Matt Eggen 1:11:27
Men's expert 19 to 34
1 Derek Leidigh 1:09:00
2 D. J. Nudy 1:11:05
3 Daniel Sheridan 1:13:53
Men's expert 35 to 49
1 Thomas Meiser 1:02:31
2 Pat West 1:04:20
3 Jeff Snook 1:06:08
4 Jeremy MacGray 1:06:29
5 Ron Famiglietti 1:07:33
6 Matt Heydon 1:08:54
7 Scott Kempers 1:09:01
8 Peter Boniface 1:10:15
9 Rick Hodges 1:13:15
10 Pj Wharton 1:13:24
11 Andreas Sauerberey 1:19:17
12 Neal Bambha 1:25:12
Men's expert 50 and older
1 Kent Eriksen 1:06:42
2 Marc Sehler 1:07:31
3 Brian Tate 1:08:42
4 Steve Colby 1:14:07
5 Kris Hagenbuch 1:23:59
Men's sport 19 to 29
1 Alec Schaffer 46:30
2 Evan Weinman 46:32
3 Trevor Floyd 48:24
4 Jon Winkelblech 50:54
5 Ben Beall 57:30
Men's sport 30 to 39
1 Eric Dose 51:00
2 Aaron Tisdale 53:48
3 Joshua Bowen-Kreiner 54:22
Men's sport 40 to 49
1 Walter Magill 52:27
2 Bob Kastor 55:44
3 Jeff Olsen 1:03:44
4 Mike Aljanich 1:09:21
Men's sport 50 and older
1 Peter Daley 53:15
2 Steve Fleckenstein 57:28
3 Stephan Zittel 59:54
Men's novice 19 to 34
1 Eddie Rogers 46:37
2 Dustin Brown 49:47
3 Jack Ignatuis 55:10
4 Austin Watts 1:03:28
Men's novice 35 to 49
1 Larry Lindeman 1:04:22
2 Nathan Mandel 1:31:58
Women's expert
1 Tammy Jacques 1:01:52
2 Kate Rench 1:11:14
3 Katie Lindquist 1:13:56
4 Genevieve Kalmes 1:23:05
5 Kathleen Fitzsimmons 1:29:44
6 Hadley Nylen 1:30:34
Women's sport 19 to 29
1 Liana Gregory 56:51
2 Reall Colbenson 57:06
3 Leslie Myller 58:41
4 Emily Fisken 1:03:42
Women's sport 30 and older
1 Susie Jones 51:35
2 Nicole Lecuyer 52:53
3 Johanna Hall 57:09
4 Kelie Nelson 58:51
5 Patti Lindquist 1:00:41
6 Helen Browne 1:03:16
7 Krista Check-Hill 1:05:10
Women's novice 19 to 34
1 Gretchen Coleman 1:02:33
2 Julie Bridgewater 1:11:35
Youth male 13 to 15
1 Koby Vargas 48:24
2 Jett Seymour 48:49
3 Lars Hannah 53:12
4 Grant Andrews 53:32
5 Rio Graab 59:55
6 Peter Rosenthal 1:07:09
Youth male 16 to 18
1 Tanner Heil 48:35
Youth female 16 to 18
1 Emily Hannah 53:48
2 Cara Piske 55:18
3 Haley Piske 55:42
4 Lucy Newman 1:01:20
Children 6 and younger
1 Andrew Kempers 00:51
2 Nicholas Warner 00:55
3 Elizabeth Lemley 00:59
4 Primo Famiglietti 01:01
5 Jack Fox 01:05
6 Colin Carter 01:15
7 Karl Brody Freckleton 01:29
8 Keane Snider 01:38
9 Sal Malone 01:39
10 Young Man 02:23
11 Skeet Armstrong 02:39
Children 7 and 8
1 Lilli Armstrong 01:23
2 Danial Kempers 01:28
3 Colin Kagan 01:35
4 Rune Freckleton 01:39
5 Erik Belshaw 01:41
6 Andrew Lemley 01:42
7 Shea Pepin 01:50
8 Ely Cariveau 01:56
9 Ella Strook 01:57
10 Jessica Warner 02:30
11 Katie McLaughlin 02:41
12 Reid Sias 03:34
Children 9 and 10
1 Dane Freckleton 00:54
2 Riley Hodges 01:05
3 Cameron Colombo 01:09
4 Max Pinto 01:23
5 Matthew Kempers 01:26
6 Ben Meiser 01:36
7 Trace Walker 01:39
8 Finn Sias 02:10
9 Annika Belshaw 02:31
Children 11 and 12
1 Zane Worrell 11:25
2 Chase Seymour 11:31
3 Trey Seymour 12:04
4 Elijah Varges 12:49
5 Kaden Mendonca 15:30
6 Cole Sias 21:51
7 Colton Oleski 30:34
Men's singlespeed
1 Jon Freckleton 1:07:38
— To reach Joel Reichenberger, call 970-871-4253 or email jreichenberger@SteamboatToday.com