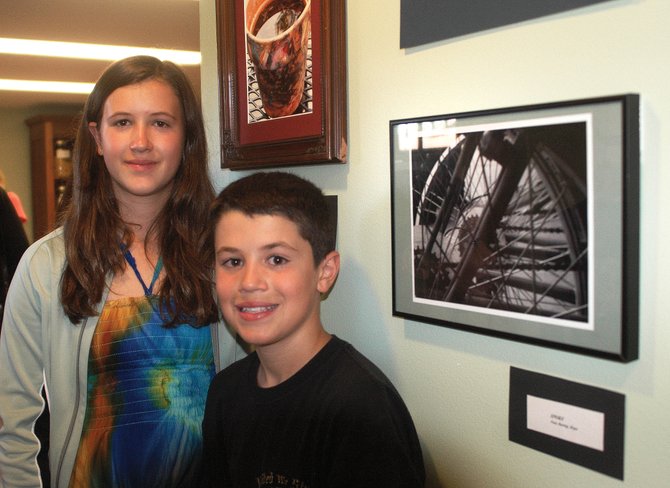 Steamboat youths work through grief with photography projects
Wednesday, August 10, 2011
Steamboat Springs — Under her photograph of a paint-splattered flowerpot, 13-year-old Rachael Green had printed the words "Free. Imagination. Joy."
On Friday, Rachael admired that photo on the wall of Kneading Hands massage studio, where it hung along with about 20 other photographs by her and several peers.
"I don't know what it has to do with hope," she mused about the colorful depiction. "But it just looked hopeful to me."
Every since her mother, Rebecca Green, died in a drowning accident two years ago, hope is a tall order. But a recent photography seminar helped her to work through that grief with her brother, Kade, and other local children who have experienced a loss.
"It lets me talk about my mom," Rachael said about using photography to express herself. "And then we can do something to let our feelings out."
Local resident Whitney Kim led the classes, which took place during the past month.
The four participants wandered grounds of the Rolling Stone Respite House to search out objects and scenes that represent hope and resolve.
In addition, they learned the basics of focus, exposure and lighting to capture as best they could their hopeful visions.
The resulting series of photographs will be on display at the massage studio of Ali Boehm for the next three months. Kneading Hands has moved downstairs at 306 Oak Street and also houses the Mandala Yoga Boutique.
Katy Thiel, a counselor at the Northwest Colorado Visiting Nurse Association, said the project and culminating public art show helped build self-esteem.
"It gives them a sense of pride and accomplishment and a chance to share something," she said. "It's important to see the healing children can do, to know that kids out there are suffering but can go out and be productive and creative souls."
The program is run through Poogie's Place, a peer support center for families suffering losses. Poogie's Place offers programs in art, music and writing as an emotional outlet for grief.
"The goal is to have them express grief in a healthy way, and the other goal is peer support," Thiel said. "So they come in and look around and think, 'I'm not alone in this world.'"
Even at age 10, the effects of the workshops weren't lost on Kade, who recognized that taking hopeful pictures that sometimes reminded him of his mother was helping him work through the loss.
"It helped me with my anger," he said. "Because sometimes I used to get mad at my sister."
He said he enjoyed learning about changing the effects on the camera and adding in playful filters on photo-editing software.
"I like (photography) because it's something you get to do that you just think of, you just do whatever is in your head," he said.
Rachael and Kade's father, Rodney, was on hand at the art show's opening Friday and said the art programs have been another hopeful influence throughout the grief process.
"I like the way they get these kids together and give them a positive outlet," he said.
For Rachael, mountain biking is another major outlet of hers, which shines through in her favorite photo she took for the project, a close up of wheel spokes.
But sometimes, she sits quietly and thinks.
"I usually get a picture of our family and think of good times," she said. "And it can still be good."
To reach Nicole Inglis, call 970-871-4204 or email ninglis@SteamboatToday.com