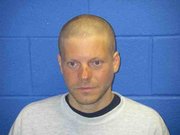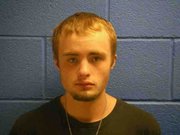 Steamboat Springs — The Routt County District Attorney's Office is awaiting video and audio recording before proceeding with charges against two men suspected of fighting at the Routt County Jail.
Adam Huber, the man serving a six-month sentence for stabbing a 14-year-old boy in the hand at Bud Werner Memorial Library in April, was involved in an altercation July 30 with the boy's older brother, William Ellifritz, who has pleaded guilty to second-degree burglary and second-degree theft related to six burglaries at downtown businesses May 4.
An oversight at the jail allowed the two men to be in the visitation room alone even though it was known that the men did not get along.
Both men have been charged with misdemeanor harassment and have been given disciplinary lockdown at the jail.
Jail Lt. Michelle Richardson said Wednesday that that the men still were in lockdown but that she could not disclose how long they were scheduled to be there. One of the men has requested a hearing with the jail's disciplinary board, but Richardson would not say whether Ellifritz or Huber requested the hearing.
Huber and Ellifritz were taken from the jail to the Routt County Justice Center separately on Wednesday, and they were not in the courtroom at the same time.
Huber was represented by Steamboat attorney Grant Bursek. Ellifritz was represented by the public defender.
Huber is due to be released from jail Sept. 22. Ellifritz is in jail awaiting sentencing Aug. 19.
Chief Deputy District Attorney Rusty Prindle said the agreement reached with Ellifritz relating to the second-degree burglary and second-degree theft could be altered given the harassment allegation.
— To reach Matt Stensland, call 970-871-4247 or email mstensland@SteamboatToday.com