Photo Gallery
Steamboat BMX track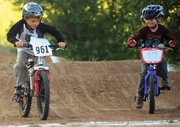 If you go
Team Flying Wheels BMX race
series schedule
■ Aug. 18
■ Sept. 8
■ Sept. 22
■ Oct. 6
■ Oct. 20
When: Registration for races begins at 5 p.m. and racing usually starts at about 6:15 p.m.
Cost: The events are open to contestants of any age and ability. Those trying out the sport can race once for $8. After that, however, a $25 club membership fee is required, along with $8 for each event.
Online: For more information, visit www.ihigh.com/staemboatspringsbmx/
Steamboat Springs — Only the largest hill gave Kade Lawton trouble.
Little more than a bump to most riders, a tabletop feature midway through the still-new Steamboat Springs BMX course loomed as a mighty mountain to Kade as he prepared for his second run in Thursday night's Team Flying Wheels BMX race series at the Howelsen Hill track in downtown Steamboat.
And who could blame the 4-year-old, who just might be capable of peering over the feature while standing on his bicycle?
His first go-through simply wasn't. He stalled out, rolled backward and continued the race only after his father, Kyle Lawton, ran over for a quick save.
Even then, it took Kade, a first-timer at the event, only a few more rollers to go from tears to full-on racing grin.
BMX may be tough, he later concluded, but it sure is fun.
Catching on
Thursday night's race drew about 20 competitors and signaled to the event's organizers that this was something that is catching on.
Part of the reason was racers like Kade. Many of the competitors, who each took part in three heats divided by age and experience, had been to the track's bi-weekly races before. Some thundered down the first straightaway and doubled the first jumps. They pumped through the rhythm section — the term BMXers use for rollers — and tossed in dirt-throwing slides after they crossed the finish line.
Others, like Kade, approached the starting line with eyes as wide as spotlights, their fears only barely contained beneath quivering lips.
They all slowly picked it up, however, and the third run of each division proved the fastest and the best.
"Some kids don't feel they can do it, but they get around the other kids and their confidence levels come up," track director Gina Grether said. "The speed is coming up and the skill is coming together, even for the 4-year-olds."
It's all developing the way Grether and fellow event organizer Brian Deem hoped last year when they helped rebuild Steamboat's only BMX venue, turning it from an often overgrown space in a forgotten corner of Howelsen Hill's shadow to a top-tier track capable of hosting dozens of riders at big races.
The track was officially unveiled late last summer, but the action really began this year, when the local BMX club, Team Flying Wheels, embarked on a 10-race summer schedule.
The competitive field for those races continues to grow each week, and it's doing so in an encouraging way, organizers said. Children and families stumble onto the track during the week, then other users mention the Thursday events and another seed is planted.
"We have had a lot of people checking out the scene for these kids," Deem said. "This is a different form of riding. You're not riding up a big, long mountain trail like most riding in Steamboat. Here, we have all the competitions right in this corner. Mom and dad can watch. Mom and dad can help. Mom and dad can see the entire race from start to finish, and so can the spectators and so can the competitors."
The growth should continue into next season, too. The track will be a part of the USA BMX circuit, allowing those riders to accumulate points in Steamboat. That should draw even larger crowds.
Ever improving
Kade sped to the end of his second run on the course and finished with a wide smile, his father jogging off the course to offer congratulations.
It was a proud moment, but that pride didn't go to his head. When his flight was up again 20 minutes later, he sped around the course but faltered in front of the same jump.
"Dad," he hollered as he rolled up to it, "I think I might need a little help."
With an on-the-back assist, 4-year-old Kade was again on his way to BMX fame.
"It was good," Kade said, simply. "I like it because it's fast."
Flying high at the Steamboat BMX track
To reach Joel Reichenberger, call 970-871-4253 or email jreichenberger@SteamboatToday.com