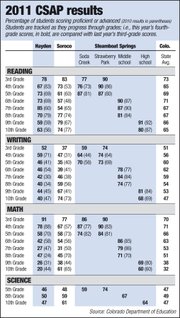 Steamboat Springs — The 2011 Colorado Student Assessment Program test scores released Tuesday show Steamboat Springs School District scored above the state average in every subject, but South Routt and Hayden are still working to clear that benchmark at some grade levels.
Steamboat Springs
Every school and every grade level in the Steamboat Springs School District surpassed state averages in the CSAP, according to the test results released by the state Department of Education.
This year's CSAP will be the last one conducted because a new form of test will be introduced next year. The test showed little overall movement at the state level.
The CSAP tested third- through 10th-grade students in reading, writing and math, and fifth-, eighth- and 10th-graders in science.
Steamboat Springs Superintendent Brad Meeks said Tuesday he found no surprises as he surveyed the scores.
"In most of the areas we scored in the same range as in years past," he said. "We have very good consistency in the test scores across the board."
But Meeks said the district's consistency could also pose a challenge during his first year as superintendent.
"The big challenge is that we have all of our schools performing quite well, and we need to talk about how we can increase those scores," he said. "How do we increase them and move them even higher?"
More Steamboat elementary school students were proficient or advanced this year in reading, writing and math. They also exceeded the state average in science.
Sixty-four percent of Soda Creek third-graders tested proficient or better in writing this year. As third-graders, only 44 percent of that class tested at that higher level.
Meeks said the improvements in elementary writing levels would allow the district to evaluate the effectiveness of a new writing curriculum introduced at Strawberry Park and Soda Creek elementary schools last year.
"We'll be talking about the impact of that program in the next couple of weeks," he said. "We found that there were some nice jumps like that in our scores."
South Routt
Although a majority of grade levels in South Routt's school district tested below the state average this year in math and writing, Superintendent Scott Mader said the scores are at a level he can work with.
"We're always going to get variations (in the scores) every year because of our small class sizes," he said. "We're going to see things go up and down, but we want to see that the trajectory is going up, and I would still say the trajectory is up."
He said the district's reading and writing performance this year was impressive, as a majority of the South Routt's grade levels improved those scores significantly. He said some broke district records.
The biggest gains were at Soroco High School, where 67 percent of ninth-graders were proficient or advanced in writing. As eighth-graders, only 41 percent of that class tested at the higher level.
Mader said the district would continue to work this year to identify trouble spots and offer assistance to students in the form of summer school and classroom interventions, among other things.
"A lot of these scores we're pleased with, but there are a few we're going to work on," he said.
Hayden
Hayden Superintendent Mike Luppes said this year's CSAP results were a mixed bag for his district just west of Steamboat.
"Overall, we're not displeased with our reading results, but we are disappointed in our math and writing scores," he said.
Districtwide, the ratio of students who tested at proficient or advanced levels increased from 40 to 48 percent in science, remained at 47 percent in math, ticked up one point to 46 percent in writing, and increased from 66 to 71 percent in reading. But a majority of Hayden's grade levels were still testing below the state average in writing and math.
Luppes said the district plans to continue to focus on writing in every subject at all grade levels.
"That's an area we want to keep emphasizing, and it can't just be in our English classes," he said.
He also said improving math scores would be a focus as test results showed that only Hayden's eighth-grade class tested higher in the subject this year. But at 91 percent, the ratio of third grade students in Hayden who tested at a proficient or advanced level this year was the highest in the county.

"As we've always said, this is a snapshot of the day they took the test," Luppes said. "When we have good scores we try not to go overboard, and when have scores not as good as we want, we don't go into a period of mourning."
To reach Scott Franz, call 970-871-4210 or email ScottFranz@SteamboatToday.com