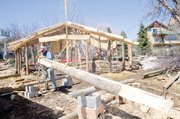 Get involved
Learn more about The Harvest Market, a new effort to benefit area nonprofit groups through sales of locally grown foods, plants and more, by contacting John Fielding at 970-846-3012 or johnfielding@comc.... If you're interested in leasing space in Lisa Sadler's new greenhouse in downtown Steamboat Springs, call Sadler at 970-819-8695 or 970-367-5749.
Steamboat Springs — John Fielding is a man of many projects, and his latest is the construction of a wood-beamed greenhouse — parts of which, he said, are reminiscent of Noah's Ark — in the backyard of an Old Town Steamboat Springs home.
Fielding has pushed in the past for the legalization of domestic goats in the city limits. However, his latest, and potentially biggest project, is intended to benefit area nonprofit groups through sales of locally grown foods, plants and more in a new market on the city's west side.
The inventive Steamboat resident said The Harvest Market could open to some degree next week, with a grand opening planned for mid-May. Several expansions, including the greenhouse and outdoor produce stand, are in the offing.
Painting and interior refurbishing of The Harvest Market is under way in the store's location next to Go Alpine, at the Phillips 66 gas station on U.S. Highway 40 just west of downtown Steamboat.
"We've created a fundraiser for local community service organizations," Fielding said Thursday. "Anyone can participate and receive a share of the proceeds."
By anyone, Fielding clarified, he meant any local nonprofit that would like to sell goods at The Harvest Market, which he envisions as "sort of a healthy convenience store." Fielding said the market could offer seeds, plants, locally grown produce and even literature about healthy food.
City planner Seth Lorson said Fielding has approval for the market, which essentially is reopening the location's former use as a coffee shop and small store.
Lorson said further approval, likely an administrative process, would be needed for Fielding's additional aspirations, particularly an outdoor greenhouse-type structure or produce stand.
Fielding said he is looking for help and participants on nearly all fronts for The Harvest Market, which he's putting together with very little capital. He said interest from nonprofit groups has amounted to, "Get it running; then we'll see where we fit in."
The market received support from Lisa Sadler, former executive director of Deep Roots, a nonprofit group dedicated to promoting local food efforts in the Yampa Valley.
"That sounds like it would be a great place for local producers to bring their produce to be sold," she said. "I think that would be a fantastic way for Deep Roots to raise some money."
Sadler said she's scaling back her involvement with Deep Roots to focus on other local projects. On Thursday, Fielding and a small crew used a crane to place a log-beam framework for a greenhouse in her Old Town backyard.
Fielding said The Harvest Market might sell do-it-yourself materials for greenhouse building.
"We hope to help a lot of people build a lot of little greenhouses," he said.
And for those wondering about goats, progress could be near.
Steamboat code enforcement officer Barb Wheeler, who has been an advocate for allowing a limited number of goats in some residential areas, said an ordinance is close to entering the city's public hearing and approval process.
"I think our ordinance is getting about ready to take to the (Steamboat Springs) Planning Commission," she said Thursday. "We're in the final stages right now."