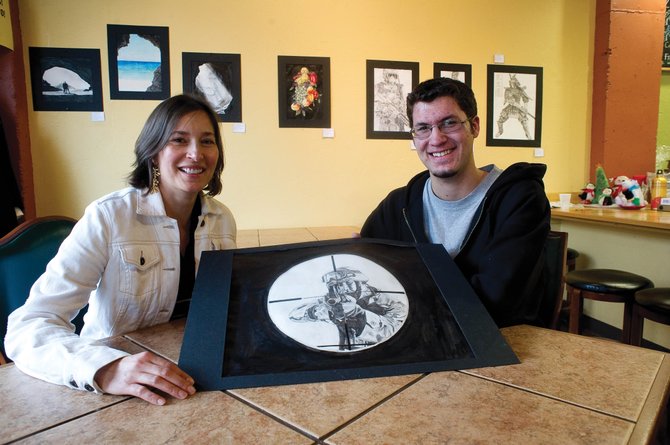 Steamboat student artist donating proceeds to school art program
Mirko Erspamer will give 10 percent of sales to middle school
Steamboat Springs — Steamboat Springs Middle School art teacher Susanmarie Oddo was shocked when former student Mirko Erspamer walked into her art class recently and handed her $120.
Erspamer, a senior at Steamboat Springs High School, dedicated his art show this month at Ciao Gelato to Oddo, his former teacher, and the middle school's art program. He's donating 10 percent of the proceeds from his art sales and all of the donations he receives during the show that runs through this week.
Oddo knew Erspamer, who she taught as a fifth-grader at Soda Creek Elementary School and kept in contact with since, would donate money from his show. But she didn't expect more than a few dollars. Erspamer donated another $100 on Monday.
"He could keep this money. He doesn't have to do this," she said. "I've known him for years, so I'm not surprised by his behavior. But for him to come up with something like this really shows his compassion."
Erspamer said Oddo has been a good mentor to him. He said she has helped with his art, which includes pencil, pastel and ink drawings and acrylic paintings, and gave him advice for his show. He said she's always been supportive of him and his work.
So Erspamer thought about how he could show his appreciation.
"I figured if I could sell pieces or get donations, I could help out," he said. "Art is one of the first programs that gets cut. I want to go into art, and I don't want to abandon art and the art classes."
Oddo said her budget, which already was thin, was cut $500 this year and she spent some of her own money to buy classroom supplies. She said it was important to her that students didn't realize there have been cuts to the program.
Erspamer, who wants to pursue a degree in fine arts at Colorado State University starting next year, said he would continue to collect donations through April. He hopes to raise more money for Oddo's art program.
The money hasn't been earmarked, but Oddo said she would like to use it to buy drawing books, reference materials for students and paint brushes.
Oddo called Erspamer a role model, someone her students look up to. She said Erspamer is the first student to give back financially, and his donation will help the middle school art program.
"This is just so cool. It's just … Wow. I'm really touched."
— To reach Jack Weinstein, call 970-871-4203 or email jweinstein@SteamboatToday.com