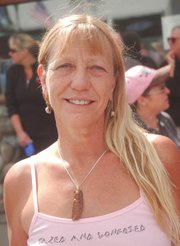 Steamboat Springs — A lawsuit filed against the town of Oak Creek by former Mayor Kathy "Cargo" Rodeman has been settled for $25,000.
"This offer is less than an offer made early in the case for $25,000 plus paying for Ms. Rodeman's costs and reasonable attorney fees," Colorado Springs lawyer Gordon L. Vaughan said in an email Friday.
Vaughan was representing the town and town officials in the civil lawsuit, which was filed in federal court.
"The settlement recently entered into was made, by defendants, to avoid the cost of further litigation, trial and a threatened appeal by Ms. Rodeman that could have extended this matter for another several years," he wrote. "Such further litigation costs would have greatly exceeded the amount of this settlement."
Rodeman filed the suit in response to her 2008 arrest by former Oak Creek police officer Erik Foster. He arrested Rodeman on July 19, 2008. Foster has said he tried to stop Rodeman in her car because she failed to use her turn signal and said she then fled to her home. Foster has said he pursued Rodeman into her home and used a Taser to subdue and arrest her because she wasn't cooperating.
Rodeman has said that she didn't commit any traffic infractions and that Foster unlawfully forced his way into her home and used excessive force.
"The settlement agreement provides, in part, that there is no admission of wrongful conduct by the town and, indeed, it continues to be defendants' position that no wrongful conduct occurred," Vaughan said.
The settlement also states, however, that Rodeman "denies that there was no basis for liability, or that liability could not have been established in a court of law."
Vaughan said the town's insurance company would pay the settlement and expenses related to the litigation.
Rodeman's attorney, Lonn Heymann, called Foster's actions "outrageous."
"The $25,000 settlement is substantial relative to the verdicts in this type of case in United States District Court in Colorado," he said in an email.
Vaughan said that before the settlement, many of Rodeman's claims had been dismissed, including all claims against Town Board members, the claims against former Police Chief Russ Caterinicchio and the claims against Foster that he had assaulted Rodeman or used excessive force.
"On that issue, the court found that Ms. Rodeman had resisted the efforts by officer Foster to take her into custody and that the force he used, including the use of his Taser, was objectively reasonable," Vaughan said.
The lingering issue in the lawsuit that had not yet been decided by the courts, Vaughan said, was whether there was an illegal search and seizure and trespass.
Heymann said if the town had not settled, many of the issues would have gone to court.
"Most of the claims from the original court filing were going to trial," he said. "The jury would have heard evidence — including the Tasings — supporting the claims of unlawful entry, unlawful arrest, false imprisonment, illegal search, and outrageous conduct. That was a good reason for the town to settle."
Rodeman said Friday that she settled the case in part because it would have inconvenienced a lot of people had it gone to trial and the process was expensive.
"I ended up borrowing a lot of money to keep it going and the settlement was enough where I could pay these people back and not lose my home," Rodeman said. "Would I have liked to have been more vindicated? Absolutely."
Rodeman posted a statement on her Facebook page criticizing Foster's actions and reflecting on the incident and the lawsuit.
"I don't blame the town for what happened to me," she wrote. "I love Oak Creek. I love the people who supported me through all that happened, and my family and friends who stood by me. … I just hope that our town is more cautious when hiring and retaining our law enforcement officers in the future."
She also noted that she's heard "nothing but respect from everyone I have talked to for Oak Creek's current policeman, Officer Lance Dunaway."
Rodeman also wrote that her children have agreed to help her write a book titled "Tased & Confused," which would detail the experience from her perspective.
— To reach Matt Stensland, call 970-871-4247 or email mstensland@SteamboatToday.com