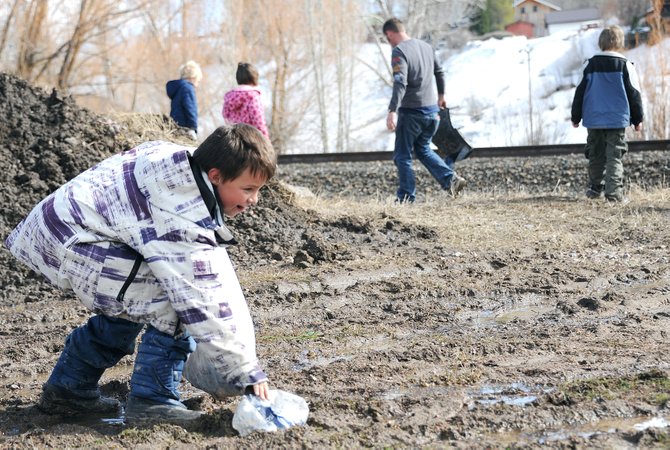 8-year-old Oak Creek resident celebrates an Earth Day birthday
Steamboat Springs — Eight-year-old Damien Reeves couldn't believe his eyes as he watched his friend Katelyn Freideman pick up a muddy sock off the ground and gingerly drop it into a white trash bag.
"Are these people serious?" he yelled at the top of his lungs as he held the trash bag open.
Katelyn's younger sister, Kaelley, 6, skipped by, also carrying a trash bag filled with items found on their Friday mission.
"I think these people are just thinking the world is a trash can," she said.
The three South Routt Elementary School students were three of 10 Oak Creek children who spent Earth Day afternoon walking around their hometown picking up trash.
The effort was initiated by 8-year-old Aidan Story, who was born April 22, which is Earth Day.
He told his mother, Johrene Myers-Story, that for his birthday this year he wanted to pick up trash with his friends.
Myers-Story said her son always has been conscious of conserving the planet and is proud of being an Earth Day baby.
"It's special," Myers-Story said. "I think he knows how important our planet is … and that it's going to be his planet."
To Aidan, Earth Day means more than getting presents.
"It means to pick up trash around town, and to recycle and to make sure the oil doesn't get into the water," Aidan said. "It's to keep the Earth clean. If it wasn't clean, it would be all dirty, and maybe fish would die."
Katelyn echoed the sentiments about wanting to keep the Earth free of trash.

"The grass needs to grow and trees need to grow and animals need to get their food," she said.
The children filled about six kitchen trash bags with items including bottles, cans, socks, paper, a lunch tray and even a piece of a car bumper.
"These people are out of their minds," said Chase Delamater, 8, shaking his head at the trash they found on their short walk around the Oak Creek Library and Decker Park.
Although the children's impact was confined to their route, their mission was part of a worldwide recognition of environmental preservation acts Friday.
According to ww.earthday.org, more than 1 billion people worldwide participate in Earth Day-related activities each year.
Although many of the children might not grasp the breadth of Earth Day, Myers-Story said it's never too early to help children understand the importance of preserving their environment.
"I think the sooner we can start educating our children about how to take care of the world, the better," she said.
A few children who had wanted to attend couldn't make it to this first event, she said, but they might have more chances.
"We might do it again when the snow melts," Myers-Story said.
To reach Nicole Inglis, call 970-871-4204 or email ninglis@SteamboatToday.com