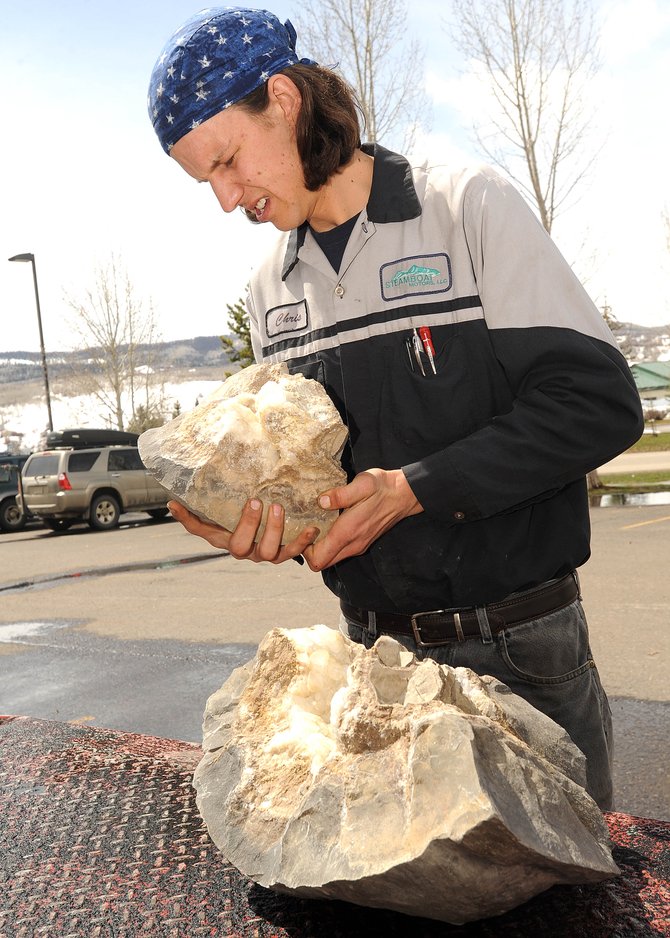 Locals find geodes by searching Steamboat's own backyard
Updated April 22, 2011 at 1:50 p.m.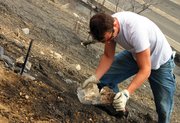 How to find a geode
■ Look in shale outcroppings that are eroding away
■ Look in an area that has had historic volcanic activity
■ Concretions that contain geodes often are round or ovular
■ Geodes can look a lot like regular rocks; you might not know what's inside until you look
■ For more information, visit www.thegeodeguys....>
Steamboat Springs — Dusty Atkinson has heard for years that if he knew where to look, he could find geode rock formations right here in Steamboat Springs.
As one of the "Geode Guys" who cracks open small, egg-shaped rocks at events like Art in the Park, Atkinson has spent his life examining crystallized minerals inside the geodes they order from Mexico, but he's never found one in his hometown.
So on a gray day in March, Atkinson, his sister Sisi and his friend Chris Ketter set out to comb an eroding hillside west of Steamboat.
"Having the rock hound gene engrained in me, every rock I saw fascinated me," he said. "But we found no geodes."
Just as they were about to leave, however, the group noticed a large concretion — a rock that's shape just didn't fit into the sedimentary layering around it.
It was round and smooth and looked as though it weighed hundreds of pounds, but inside, a hollow area about 6 inches in diameter revealed large crystallized calcite formations in a milky white color.
"I've cracked thousands and thousands of geodes in my life, but it's never been one I've found myself," Atkinson said. "And the fact that it was in my hometown, that made it really special."
It took 25 minutes with a hammer and chisel to get the rock to open up along its natural fault lines, but when it did, it was like a "eureka" moment for Atkinson, who got the rock hound gene from his father, mineral sculptor Leo Atkinson.
The group brought two large hunks of geode back home, one weighing 70 pounds and one 30 pounds.
Geode hunters don't go around cracking open any rock in sight. There are specific things they are looking for, such as a location that had volcanic activity at some point in geologic history.
Millions of years ago, there was lava flowing through the Yampa Valley, which formed gas bubbles that hardened into hollow rocks.
"Over time, ground water washes minerals into that void and those minerals eventually crystallized into chalcedony quartz and calcite," Atkinson said.
On the outside, geodes can look like regular rocks, but they usually are round or ovular in shape. The Steamboat geode that Ketter and the Atkinsons found had a smooth surface, which stood out from the rocks around it.
But like geodes from all across the world, Atkinson said, there is no way to know what's inside until you look. You might find purple, red and white crystals of varying sizes and formations, or, it could just be a solid rock.

Ketter, who rented a room from Leo Atkinson three years ago with no knowledge of rocks and minerals, was sucked into the excitement of geological discoveries very shortly into his friendship with the Atkinsons.
"It's just so exciting," he said about cracking open the geode. "It's like geological time."
Ketter said the excitement of finding the Steamboat geode wasn't because of the appearance of the rock. It is, by normal geode standards, "bland."
"It's that we found our own," he said.
The group said they found a few other small pieces of rocks with crystal formations, indicating there are more geodes out there, in Steamboat's backyard, waiting to be discovered.