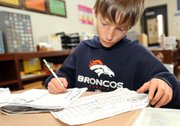 Montessori enrollment
2004-05: 23*
05-06: 30*
06-07: 47
07-08: 47
08-09: 46
09-10: 48
10-11: 47
*The Montessori program only served first- through third-graders in its first two years. It expanded to serve fourth- and fifth-graders starting in 2006-07.
— Source: Steamboat Springs School District
Steamboat Springs — The Montessori teachers at Strawberry Park Elementary School are pleased with the program's evolution since it started seven years ago.
Karen Kutska, who teaches first- through third-graders in lower Montessori, said the program was controversial at the beginning because so many people were unfamiliar with it and how it works. She said it's now more accepted in the community and the school.
Linda Stansbery, who teaches third- through fifth-graders in upper Montesori, agreed.
"They're starting to recognize the program does work well and has a place at the school," she said.
Steamboat's Montessori program started in the 2004-05 school year and its first four students graduated from the program last year. The century-old teaching method focuses on hands-on independent learning. Students are divided into two groups: lower, which is first through third grade; and upper, which is third through fifth grade.
Kutska said students have a work plan that is checked off daily. She said, oftentimes, her 24 students could be working on different things.
"We're trying to really foster that independence and bring that out," Kutska said. "We set that as an expectation for the kids, to be independent."
Stansbery said she and Kutska act as guides. She said it's up to students to manage their own time, make choices and try new things while teachers are available to help.
"The whole goal is that empowerment, that the kids know they're responsible for their own learning," Stansbery said.
The teachers said the Montessori program must comply with the state's education standards. Montessori students take the Colorado State Assessment Program tests.
Strawberry Park took applications for next year's Montessori enrollment until April 8. Each teacher expects to have 24 or 25 students, continuing a trend of flat enrollment since the program expanded in 2006-07, to serve first- through fifth-graders. During the program's first two years, it served only first-, second- and third-graders.
Principal Celia Dunham said 11 children were on a waiting list for next year, about the average. She said priority is given to siblings of students already enrolled. After that, Dunham said, there is a lottery to fill the remaining open slots, to balance boys and girls with what's needed to fill each grade level.
Dunham said interest in the program has been steady. Even though there is a waiting list, she said it's not been big enough to add another class.
Because students learn in different ways, Dunham said, she was glad the district offers a public Montessori program. She said Montessori programs are typically private.
"We're thrilled with it," she said. "We're very pleased to have it as an option for kids. We feel it provides a good choice."
— To reach Jack Weinstein, call 970-871-4203 or email jweinstein@SteamboatToday.com