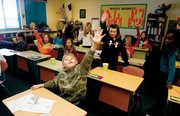 By the numbers
2010-11 private school tuition*
■ Christian Heritage School
K-5: $6,500
6-12: $7,000
■ Lowell Whiteman Primary School
$12,900
■ The Lowell Whiteman School
Day: $18,700
Boarding: $34,900
*Each school is providing some type of financial aid to at least 30 percent of its students. Christian Heritage is providing aid to 31 percent of students, Whiteman Primary is providing aid to 30 percent, and Whiteman is providing aid to 33 percent. Whiteman Primary's figure was provided at the beginning of the school year.
Jackson County — The Lowell Whiteman School has seen positive results from its use of online promotion, specifically through Facebook and YouTube.
Using social media has helped get the word out about the secondary school in the woods off Routt County Road 36 just outside of Steamboat Springs, new Admissions Director Derek Svennungsen said.
Whiteman, like other private schools in Steamboat, is struggling to keep its enrollment up as economic factors make it more difficult for families to pay tuition and fees. Whiteman's enrollment this year is 76 students, following a consistent decline. The school had 106 students during the 2006-07 school year.
Christian Heritage School, just west of Steamboat, saw a much larger decline in enrollment this year. It is down 35 students, to 72 from 107 during 2009-10.
Lowell Whiteman Primary School downtown, Steamboat's third private school, is an exception, however. The K-8 school has maintained flat enrollment numbers for about a decade and has a waiting list for prospective students.
Svennungsen said expanding Whiteman's online presence is an easy and inexpensive way the school is working to attract students. And he said it's a way to promote not only the school's competitive ski and snowboard program, but also its foreign travel program and academic offerings.
"I think it's working," he said. "Our inquiries are up this year. I'm encouraged we're reaching more kids online."
Similar efforts
Christian Heritage Administrator Dave Entwistle said the school needs more students to get to where it wants to be.
Many of Christian Heritage's efforts to get the word out and attract new students will take place starting next year, Ent­wistle said. He said the school's Board of Directors would meet this week to discuss a new marketing plan to extend its reach into the community and to let residents know what the K-12 school offers.
The school also is considering adding Advanced Placement classes and an outdoor environmental science class for upper-level high school students, Entwistle said. He said the school's computer program expanded this year, and he would like to incorporate more technology into every classroom.
Entwistle said Christian Heritage also is planning a mission trip in April 2012 to Uganda that every high school student can apply for.
He said all of those efforts are intended to attract more students.
"I would love to see us grow to 125 to 150," Entwistle said. "I would really like that. I think, realistically, there's some exciting things happening, (but) I don't expect a huge influx. We will still be who we are. We're not just another private school, another option than the public school."
Still more to do
Whiteman went without a dedicated admissions director last year. Former Head of School Walt Daub filled the role.
Nancy Ventrudo, chairwoman of Whiteman's board of directors, said the school didn't want to be without an admissions director for another year — hence the addition of Svennungsen to the staff.
"The admissions director is very critical in getting out the message about what is special about the Whiteman School and what kinds of kids would do well there, and really coordinating those efforts," she said. "We're so small, we really need someone to be a cheerleader for what we offer and to look for kids, for the rigorous academics and either the foreign travel or competitive ski program."
Whiteman Head of School Chris Taylor said the greatest advantage to having Svennungsen was his ability to travel to meet with students, which Taylor can't do and which Daub had little time to do last year.
"We're having closer contact with those families, rather than just sending them information and talking to them on the phone," he said.
Although he does travel, Svennungsen said the most important work he'll do in the next couple of years is strengthening Whiteman's presence in Steamboat. He wants to sell its programming for potential day students and promote their interaction with boarding students from all across the world — including six this year from Europe and Mexico.
Svennungsen acknowledged that enrollment wouldn't increase overnight. He would like the school to have 95 students by the 2012-13 school year, about 40 percent from Steamboat.
"What I really want from local families, I want seventh- and eighth-grade families to have the conversation about Lowell Whiteman," Svennungsen said. "They don't need to enroll, but I want to be a part of the conversation. It may not be for everybody; the (Steamboat Springs High School) is great. But for the right kid, I've got to believe Lowell Whiteman is the place for them."
To reach Jack Weinstein, call 970-871-4203 or email jweinstein@SteamboatToday.com