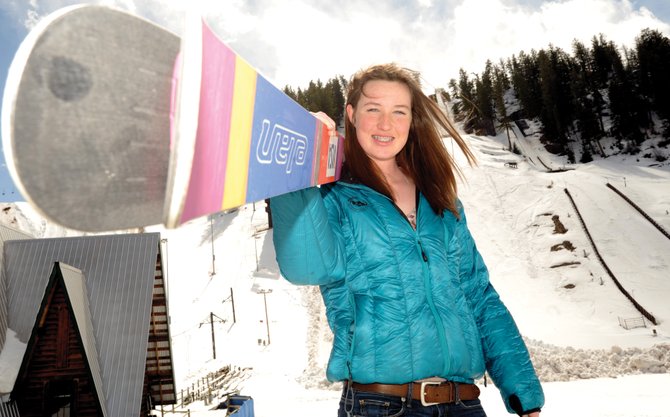 New Olympic events open doors for Steamboat athletes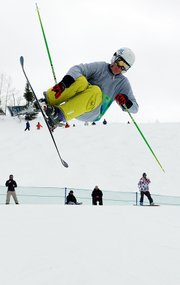 Steamboat Springs — The announcement that women's ski jumping would be included in the 2014 Winter Olympics hasn't changed Madison Keeffe's life.
She only found out the news after several friends passed it along on Facebook. She doesn't know if she could make the ski jumping Olympic squad or even if she wants to.
"I don't know," Keeffe said again and again Friday, asked at 15 years old to consider questions that could define her next 20 years.
"I just enjoy jumping," she said. "This gives me a little more to look forward to, more opportunities, but I enjoy jumping and skiing, so I'm going to keep doing both for a while."
There was one thing that she, one of Steamboat Springs' most accomplished women ski jumpers, was sure about, however.
She said no mater what part ski jumping plays in the rest of her life, the sport's inclusion in the Olympics is truly a great thing, for her, for her friends and for those who are standing now where she stood eight years ago: atop a snowy ski jump, a scared and unsure rookie.
"Not only do I now have the opportunity to possibly go to the Olympics if I work hard, this also has a ripple effect," Keeffe said. "This gives young kids something to look forward to and somewhere to go with the sport.
"It's really cool for the young kids."
Future considerations
Keeffe this winter became one of the premier jumping women of Steamboat as much by default as by accomplishment.
That's not to say she didn't piece together a great season. She did, winning Junior Olympic gold in special jumping, like what will debut at the Olympics in 2014, and Nordic combined.
Keeffe stands out in Steamboat because she is one of few girls who have continued jumping as long as she has.
"Right now, we have a lot of girls in our (Nordic combined) program. We had more girls than boys this year for the first time at my level," said Todd Wilson, Nordic director for the Steamboat Springs Winter Sports Club. "There's a lot of them out there, a lot that enjoy the sport, but they fade out as the opportunities for the future decrease."
A World Championship cropped up for women's ski jumping in 2009. It's grown in the years since, and next year, a World Cup circuit is expected to start. Nothing adds legitimacy like the Olympics, and until special jumping was added to the big show, that wasn't a path any of Steamboat's women sought.
Instead, the athletes — the vast majority have focused on the jumping and cross-country skiing sport of Nordic combined — most frequently chose to go with cross-country skiing. That sport boasted not only Olympic promise, but also more immediately the chance for college scholarships.
Nordic combined athletes only skate ski. NCAA cross-country skiers also must be proficient at classic-style skiing.
Now, finally, there's incentive to stick with the jumping, a sport that Wilson said could get a major local boost for both sexes in the near future.
Special jumping fell victim to major budget cuts from the U.S. Ski Team after the 2002 Olympics in Salt Lake City. Now the programs are again on the rise, and women being allowed into the Olympics is another big push.
"The boys have all been going to Nordic combined because that's where there's been more of a future," Wilson said. "We will start seeing athletes come back and pick that route as we move forward. Now we'll also have girls staying in our program longer and longer because they have a future, too."
'A sick ride'
In addition to women's ski jumping, four other events were added to the sport roster for 2014, the other most pertinent to Steamboat being ski half-pipe.
Like Keeffe, Steamboat's top competitors in that field saw the addition more as a welcome option than a life-altering event.
"I wasn't really worried about it," said Penn Lukens, one of the area's top half-pipe skiers.
He's also a top competitor in ski cross, which already had a place in the Olympics. The addition of half-pipe to the Olympics won't change how he manages his time, he said.
There have been other major avenues for half-pipers to follow, thanks to events like the X Games.
"I just do half-pipe and ski cross for fun, mainly," he said. "Now with the Olympics, it's another goal, to get there, or to the Dew Tour or the X Games, maybe."
Winter Sports Club Freestyle Director Erik Skinner envisioned the addition of half-pipe changing and helping regulate the sport.
Terrain park skiing already is plenty popular, he said, and this just allows another opportunity for those athletes.
"That gives us another whole platform to play on, to hope for and work toward," Skinner said. "We're excited that hopefully in the future we'll have some of our athletes competing at that level.
"I can't wait to watch it. It should be a sick ride."
Potential progress
Not only does the addition of women's ski jumping and half-pipe skiing mean new opportunities for local athletes, it also means more new doors could be opening soon.
Men's and women's slopestyle still is being considered by the International Olympic Committee for 2014.
Those games, in Sochi, Russia, will include only one event for the women ski jumpers. Some said expansion can't be far off. Men compete in three jumping events plus three Nordic combined events.
"It's inevitable that Nordic combined will be there," Wilson said. "Whether it will take five years or 20 is the only question. This is all exciting, and we're really encouraged by it."
— To reach Joel Reichenberger, call 970-871-4253 or email jreichenberger@SteamboatToday.com