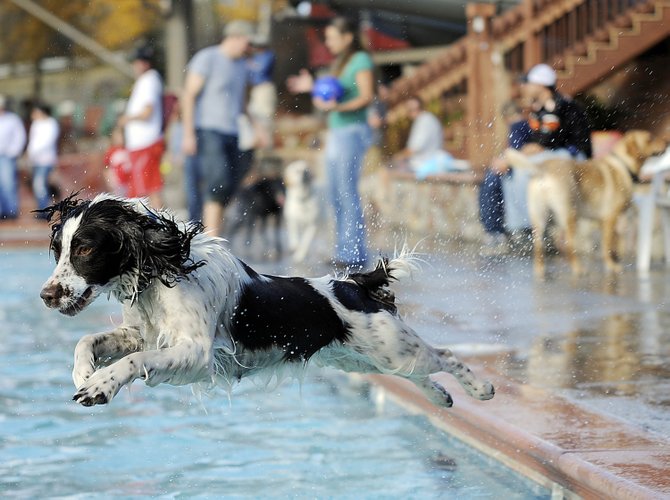 Steamboat dogs ready to swim at Poochy Paddle
3rd annual event is from 2 to 4 p.m. Sunday
Past Event
Sunday, April 10, 2011, 2 p.m. to 4 p.m.
Old Town Hot Springs, 136 Lincoln Avenue, PO Box 771211, Steamboat Springs
Not available / $5 - $10
San Juan, Puerto Rico — Some area dogs will get their spring cleaning Sunday during the third annual Poochy Paddle at Old Town Hot Springs.
"Plan on getting dirty and wet because dogs will shake all afternoon," said Shannon Lukens, marketing director at the ht springs.
The event is from 2 to 4 p.m. and is an end-of-ski-season celebration, of sorts, for dogs. Immediately after the event, the lap pool is drained and closed for about a week for a thorough cleaning.
Tickets for the event are available for $5 in advance at the hot springs or $10 the day of. Dog owners also should bring dog or cat food to be donated to needy pets.
"We take a big carload of food to the animal shelter," Lukens said.
Lukens said more than 100 dogs participated in last year's event. Once again this year, the Poochy Paddle coincides with Closing Day celebrations at Steamboat Ski Area.
"There are a lot of people that want to avoid the crowds on the mountain, and this is a way to do it," Lukens said.
Having the event on Closing Day also helps keep participating dogs to a more manageable number.
"I think every dog in the town would be there if we didn't do it at the same time the mountain is closing," Lukens said.
The Poochy Paddle has turned into a popular community event, Lukens said.
"People are just laughing so hard because the dogs are having so much fun," she said.
Owners also should bring toys for their dogs to play with.
"Sticks, tennis balls, Frisbees, whatever you want to bring for your dog," Lukens said.
To reach Matt Stensland, call 970-871-4247 or email mstensland@SteamboatToday.com