2011 Sailors girls soccer schedule
March 10 to 12 Colorado Academy Tournament: Steamboat 4, Frontier Academy 2; Steamboat 2, Middle Park 2; Steamboat 6, Vail Mountain School 0
March 18: Steamboat 3, Battle Mountain 2
March 26: Steamboat 6, Eagle Valley 1
April 2: Steamboat 6, Delta 0
April 7: Steamboat 6, Eagle Valley 3
April 9: Glenwood Springs 4, Steamboat 1
April 11: Steamboat 3, Moffat County 0
April 15: Steamboat 3, Palisade 2
April 28: Glenwood Springs 2, Steamboat Springs 1
May 4: Steamboat 2, Moffat County 0
May 5: Steamboat 2, Delta 0
May 6: Palisade 2, Steamboat 0

Playoffs

May 11: Skyline 3, Steamboat 0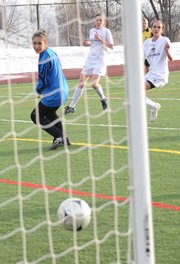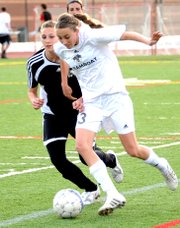 Steamboat Springs — Now on to the biggest game of the year.
With an easy 6-3 win Thursday night against Eagle Valley, the Steamboat Springs High School girls soccer team set up the marquee matchup of the young season in the Western Slope League on Saturday in Glenwood Springs. 
The Sailors are 6-0-1 overall and 4-0 in league play, with the Demons at 4-1, 3-0. The winner of the 1 p.m. contest Saturday will have the upper hand on a league title run and presumably a first-round home playoff game. 
"It's going to be a good matchup," Steamboat coach Rob Bohlmann said.
But before Saturday's showdown, the Sailors had to battle a young Devils team. 
Eagle Valley, clearly in a rebuilding phase, started fast and caught Steamboat on its heels early. 
In the fourth minute, the Devils' Lauren Thorpe streaked up the right side and centered it to Blanca Gonzalez, who was able to redirect the ball past Sailors keeper Hannah Barkey for a 1-0 lead.
But that just seemed to wake Steamboat up. 
Joanie Bier finished a cross in the 14th and added another in the 17th to give Steamboat a 2-1 lead. From there, the Sailors never would relinquish the lead and rarely would give up possession. 
Freshman Tatum Sear took a through ball from Bier in the 30th and eased one in to give Steamboat a 3-1 advantage. She added another in the 38th to send Steamboat into the half with a 4-1 advantage. 
Bier continued her dominance early in the second half by controlling the middle of the attacking third. 
The senior picked up her second and third assists on nearly identical plays. In the 43rd, she found Sydney Bauknecht on a pretty through ball just outside the box and delivered Bauknecht another perfect ball just two minutes later to give the Sailors a 6-1 lead.  
"We're not relying on one player," Bohlmann said. "We have a large number of players that have the goals and assists. I think in the attacking side of our game, we feel pretty good about where we are."
Eagle Valley freshman Maggie Gilman added a goal in the 69th, and Gonzalez pounded in a penalty kick late for the final score.  
"It wasn't much of a challenge for them the first time we played," Eagle Valley coach Jason Rittmiller said. Thursday "we made them work for it. Last time, they didn't have to work hard for it. That's something we're proud of."
Steamboat now prepares for Saturday's game. Steamboat, for its part, often has struggled on Glenwood's narrow pitch. With rain in Saturday's forecast as well, the battle could come down to which team better handles the elements. 
"They play two different games," said Rittmiller, whose team has played Steamboat and Glenwood. "It'll be a matchup thing of who comes out just right. I can't pick a winner. It's who comes out with the right formation from the get-go." 
— To reach Luke Graham, call 970-871-4229 or email lgraham@SteamboatToday.com