Yamn
String Board Theory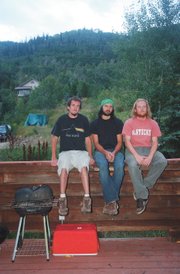 Closing weekend concerts
■ Friday
Brian Smith Band — FREE, Sweetwater Grill, 9 p.m.
Lion Souljahs — $5, Ghost Ranch Saloon, 9 p.m.
String Board Theory — FREE, The Boathouse Pub, 10 p.m.
■ Saturday
Speak of the Devil — FREE, Slopeside Grill, 2:30 p.m.
Yamn, Missed the Boat, Old Town Pickers — $10 in advance or $12 at the door, The Steamboat Grand, 8 p.m.
The Amputators and Beatle Kill — FREE, Ghost Ranch Saloon, 9 p.m.
Rowdy Shadehouse Funk Band — FREE, Sweetwater Grill, 9 p.m.
DJ Also Starring — FREE, The Boathouse Pub, 9:30 p.m.
■ Sunday
Katchafire and The Wailers — FREE, Gondola Square, 2 p.m.
DJs Nakhia and Skippa — FREE, Amante Coffee, 5 p.m.
Better Than Bacon — FREE, Old Town Pub, 9:30 p.m.
Steamboat Springs — Closing weekend at the Steamboat Ski Area doesn't just mean the end of first-chair powder days and fresh corduroy turns. It also marks the end of winter entertainment season, which brought live music of all kinds — from raucous and rowdy to soulful and lyrical — to Steamboat Springs on almost any night of the week.
Before some local venues close for mud season and the downtown streets empty out until summer, there are a few more chances to let loose.
Yamn on
For those who started winter by dancing all night to the jam-tronic sounds of Front Rangers Yamn at Old Town Pub in November, here's a chance to end the season the same way.
In the midst of a series of closing weekend shows across the Colorado mountains, Yamn's yellow school bus will pull into Steamboat this weekend to headline a Saturday show in The Steamboat Grand ballroom.
The Mud Season Party, presented by Best Yet Productions, also features local mountain grass rockers Missed the Boat and acoustic tweener sets from bluegrass purists the Old Town Pickers.
Tickets for the show are $10 in advance and $12 at the door.
Kurt Vordemeier, Old Town Pub manager, is the man behind Best Yet Productions, which also threw the Keller Williams show in January at Sheraton Steamboat Resort. He said the level of music on Saturday's bill says it all.

"Missed the Boat, they're Missed the Boat," he said. "They'll have their following. Those guys have done real well for us; they bring the local flair.
"Yamn, we can't talk enough about those guys. We love what they do with the light show with Paul (Whitehouse, lighting designer). They've been gaining tons of steam."
He said the Old Town Pickers will be playing "mariachi" style in addition to playing between sets. You might be serenaded while waiting in line, outside in the smoking area or in the hallways.
"I just like people having a good time," Vordemeier said about this weekend's show. "Live music has been an important part of my life. It's always made me feel good if I'm feeling bad, and if I'm feeling OK, it makes me feel even better. How can you go wrong with live music?"
Beatle Kill returns
Also Saturday night, the Ghost Ranch Saloon will offer a show of a slightly different flavor. About four years ago, local rockers Beatle Kill came onto the scene to try to shake things up a bit.
Now reunited and working on their second studio album, Beatle Kill will make an appearance at a free show at 9 p.m. at Ghost Ranch Saloon.

"We all enjoy the heavy rock music, and we wanted to change a little bit of Steamboat," drummer Jesse Calhoon said about the group's growth from a garage band to recording and touring. "During the time, it was more of a jam band scene. We wanted to bring a little rock 'n' roll to Steamboat."
Beatle Kill will play alongside the Amputators, a driving punk rock band with a penchant for filthy lyrics.
Calhoon said Beatle Kill has long looked up to the Amputators' rockabilly sounds and the two will complement each other well.
Armed with a laser light show and live entertainment from the Hula Fools, Calhoon said the evening will help kick off spring by giving Mother Nature a little kick.
"It's a circus for the eyes and it's great to dance to," Calhoon said. "And bring your combat boots."
To reach Nicole Inglis, call 979-871-4204 or e-mail ninglis@SteamboatToday.com