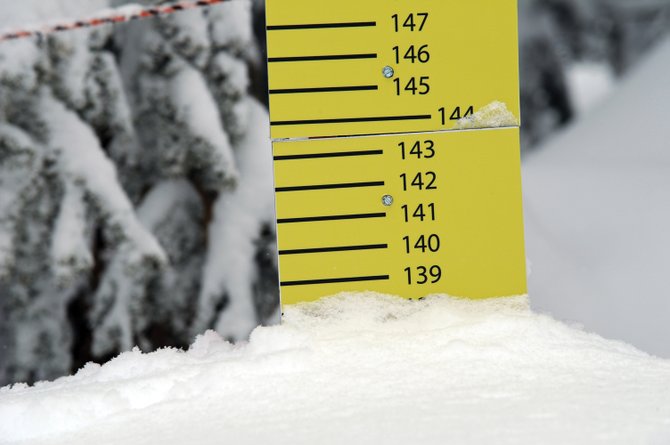 Tom Ross: Sprinter is here
Tom Ross
Tom Ross' column appears Tuesdays and Saturdays in Steamboat Today. Contact him at 970-871-4205 or tross@SteamboatToday.com.
Find more columns by Tom here.
Steamboat Springs — It's all my fault. The delayed April Fools' Day joke that fell from the sky and plastered Steamboat with a fresh coat of white on Sunday would never have been perpetrated on us had I not attached my bike rack to the trailer hitch on April Fools' Day proper.
What was I thinking when I prematurely pumped air into my bicycle tires? Perhaps I was misled by the average March daily high temperature of 40.6 degrees.
Can we all officially agree to change the name of mud season to sprinter? It would be a lot easier to market.
Local weather observer Art Judson's records show that there only were two days last month — March 5 (31 degrees) and March 9 (32 degrees) — when the high temperature didn't rise above freezing. Judson's log for March 20, when the mercury rose to 50 degrees, reflects that he spied badgers running on top of the snowpack. If badgers in love aren't a sure sign of spring, then what is?
I was skiing at the Steamboat Ski Touring Center on March 18 when I spotted a whistle pig lolling outside his burrow on the warm spring afternoon. He didn't see his shadow, but we might get six more weeks of winter just the same.
This is classic early spring weather in Steamboat.
At the same time the temperatures encourage optimists to clean their bicycle chains, the ski area is pushing the annual snow total ever higher.
Steamboat Ski Area announced March 28 that Mount Werner had eclipsed 400 inches of total seasonal snow for the third time in four years, and nearly 2 more feet of snow have been added to the total since.
When the fresh snow melted off the garden beside my driveway at noon Monday, I discovered eight crocuses had managed to blossom in the midst of the wintry weather.
I wonder if anyone in Las Vegas would take my bet that we will be able to ski on Rabbit Ears Pass during June for an unprecedented third year in a row? The snow depth on Rabbit Ears surpassed 90 inches on Sunday, according to the Natural Resources Conservation Service, and the snow depth on top of Storm Peak at the ski area was a record 138 inches.
Happy sprinter. Make the most of it.
To reach Tom Ross, call 970-871-4205 or email tross@SteamboatToday.com