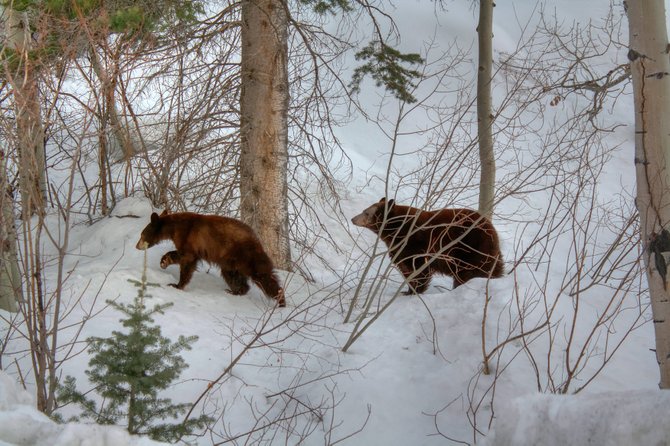 Bears waking from slumber in Routt County
Spring without a freeze could cut down on bear-human problems
Photo Gallery
Bear spotting in Routt County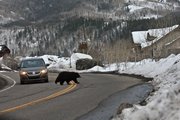 Steamboat Springs — With temperatures expected to reach 60 degrees in Steamboat Springs on Saturday, spring is starting to show, and bears are waking up from winter hibernation to smell it.
There already have been several sightings of hungry bears in the area, including one bear photographed March 21 while crossing Steamboat Boulevard.
"They're going to be getting into anything they can," said Jim Haskins, Colorado Division of Wildlife area wildlife manager. "Another season is about to begin, so we need people to be careful."
Bear sightings and encounters with humans in Steamboat are not unusual, Haskins said, but how big of a problem they create often can be tied to spring weather.
"If we have a good spring and don't get a freeze, we'll be OK," Haskins said.
A late freeze could kill the berry crops that bears seek out as a natural food source.
"There are always a few bears that are town bears that are always a nuisance in town," Haskins said. "Where you have a real serious problem is when you have a food shortage."
Last year's berry crop was plentiful, which Haskins said helped curb bear-related issues in the city. There were, though, some memorable bear stories from 2010.
There was the bear in May that broke through a screened window into Sandie Ihlenfeldt's home on Mark Twain Lane and ate her freshly baked brownies. The bear also ate honey from a bear-shaped bottle and got into a bag of powdered sugar, leaving white paw prints in the house.
There also was the year-old bear cub in the Dakota Ridge subdivision that had presumably been abandoned. Haskins said the cub was kind of a clown.
"Every couple weeks it could get into a little bit of trouble but not to the point where we needed to destroy the bear," he said.
In June, this bear had learned to operate door handles and was especially fond of the home owned by Mike and Arlene Zopf, who didn't think to lock their doors to ward off bears. The bear got into the Zopfs' cupboards and ate oatmeal and apples. What made this bear most famous was the photo Mike Zopf took of the cub trying to open a window with its paws while standing upright on a deck railing.
"He was young, hungry and confused," Mike Zopf said Thursday.
DOW trapped and moved the bear from the subdivision, but it came back. Zopf said he has not seen the bear this spring.
Steamboat Springs Police Department Capt. Joel Rae said officers soon would begin the annual practice of re-educating the public about bears and steps they can take to help prevent bears from becoming a nuisance. Officers will be reminding residents to use bear-proof trash containers and to not leave the containers outside for extended periods of time. Bears are attracted to bird feeders, and homeowners are asked to bring bird feeders inside each night.
After a few weeks of reaching out to the public through bear education efforts, Rae said officers would then begin issuing tickets.
A first-offense ticket is $100 but may be suspended or reduced upon proof of purchase of a bear-resistant container.
A second ticket is $150, and third and subsequent violations require a municipal court appearance. The court then can issue fines as high as $999.
Rae said he has not heard about any bear calls received by the Police Department this spring.
"I'm sure it will start happening any day," Rae said.
— To reach Matt Stensland, call 970-871-4247 or email mstensland@SteamboatToday.com