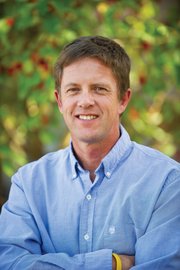 Rules of the road
■ Bicyclists have all the rights and duties applicable to the driver of any other vehicle and can be penalized for violating traffic laws
■ Ride on the right; never ride against traffic
■ Ride in the right lane, except when passing another vehicle, preparing for a left turn or avoiding hazards
■ Ride on paved shoulders and bike lanes when present and free of hazards
■ Obey traffic laws, signs and signals
■ Ride no more than two abreast, returning to single file if riding two abreast would impede the flow of traffic
■ On curving canyon roads without bike lanes or shoulders, play it safe and ride single file
■ Use hand signals to indicate left or right turns, slowing or stopping
■ Use a headlight, taillight and reflectors at night
■ Act like a vehicle on the roads; bicycles have the same rights and responsibilities
Have you ever done a double take when you saw something that didn't make sense? It happened to me the other morning as I was riding into town in the wide shoulder along U.S. Highway 40. I looked ahead and could not believe what I was seeing. It was another bike, heading toward me, against the flow of traffic, and we were just moments from impact. Fortunately, both of us were quick on the brakes, and we came to an awkward stop face to face.
I wanted to blurt out a book full of questions. "What were you thinking?" "Are you completely insane?" "Are you like some kind of fish on a bike instinctively swimming upstream to die?" But I didn't say anything. The look on the other rider's face said it all. He had no clue that what he was doing was wrong.
Perhaps others reading this also are confused, and you may not be alone. It occurs to me that we could all do a better job of knowing the rules of the road.
At the hugely successful Safe Routes to Schools rallies this month, I sensed that some of the children we were teaching might actually have a better grasp of the rules than the adults. I didn't see one child run a stop sign, and every one of them made a clear indication to other road users if they were turning left, turning right or stopping. OK, they were surrounded by parents, teachers and community service officers telling them to do this, but my point is that these children were doing it right from the get-go, and we need to continue to reinforce this.
What worries me is when we turn these children loose on our roads and they see other riders and drivers playing out their interpretation of what is right for bikes on our roads (including swimming upstream). Would you think twice about blowing through stop signs or running a red light if you knew a child could be watching you and thinking, "That's cool"? Would you ride without lights if you thought this would undermine why a child should follow this basic common-sense rule? Would you swim upstream?
So to finish, I'll let you in on a secret. Cyclists are not fish; therefore swimming upstream is not a good idea. Like fish, we are vulnerable, but on a road we are vehicles with rules to follow. Like fish, we stand to lose a lot if we make a mistake. So as a cyclist, you need to be smarter than a fish.
Robin Craigen is president of Routt County Riders.