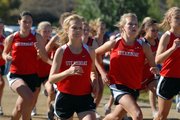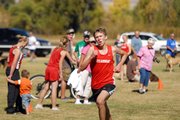 Team standings
Boys
Team Points
Moffat County 24

Uintah 69

Steamboat Springs 82

Rifle 96

Rangely 161
Girls
Team Points
Moffat County 26

Uintah 41

Steamboat Springs 81

Rifle 116
Top Steamboat finishers
Boys
Name Time Place
Jack Burger 17:11 3
Asher Rohde 17:29 5
Jeff Sperry 18:37 12
Girls
Name Time Place
Liza Stout 22:25 11
Cassidy Fox 22:30 12
Dominique Powers 22:52 15
Craig — For Steamboat Springs High School runner Jack Burger, being on a flat course is advantageous. However, he said there's another element that helps in a cross-country meet.
"Home-field advantage," he said.
The SSHS senior finished first for his team Saturday, close behind two runners who were a little more familiar with the terrain of Craig's Loudy-Simpson Park, Moffat County High School runners Chris Zirkle and Alfredo Lebron, who placed first and second in the boys race, respectively.
Burger was one of 17 Steamboat runners to participate in the Mof­­fat County In­­vita­­tional, which also saw attendance from Rifle, Rawlins, Rangely, Uintah, with nearly 100 total runners.
Senior Liza Stout said the turnout surprised her.
"We haven't raced with some of these teams yet," she said. "I wasn't sure what to expect."
Although she was racing with competitors she was unfamiliar with, Stout had run the 5,000-meter Craig course before, which was plotted in a new route last year, losing a hilly area that Stout said had been troublesome before.
"It felt easier than previous years," she said.
The Sailors agreed that the second mile of the course was the toughest, looping around a soccer field with thick grass that slowed their running.
But Burger and Stout still were able to lead their teams to the finish line with solid times.
Burger placed in third place with a time of 17 minutes and 11 seconds, and Stout finished 11th in 22 minutes, 25 seconds.
"My goal was just to place high," Burger said.
Junior Asher Rohde was right on Burger's heels in fifth place, with a time of 17 minutes, 29 seconds.
Rohde said the payoff for a "hard week" of practices was rewarding.
"I finished 16th at Liberty Bell (Invitational), so it was really nice to be in the top 10 this time," Rohde said. "It's a nice course to run on."
Senior Cassidy Fox placed 12th, clocking in at 22 minutes, 30 seconds.
"Right from the get-go, we really worked as a team," Fox said.
Fox said she and her teammates stayed in a pack for most of the race, switching leaders.
"We were drafting a lot, letting the person in front cut down the wind resistance," she said. "We switched every few minutes."
The boys and girls teams placed third overall in the meet.
Steamboat coach Andy Reust said he was "pleased with the results based on the volume of work" the team had put in.
"We had a tough week, and all these kids ran great," he said. "We had four freshmen girls out there in their second meet, and they lowered times across the board. We're right where we want to be as a team."