Photo Gallery
Yampa businesses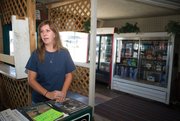 Steamboat Springs — Business owner after business owner in Yampa reported that the economy of the South Routt town is on the mend this year after several tougher years. Even so, the overall success of the season before winter hits hinges on the second rifle-hunting season.
In Ken Montgomery's general store at the end of Main Street and Moffat Avenue, business has been strong this season from regular customers, he said, but the last-minute customers who usually tag along with their friends have been absent. Those hunters who decide to join their friends' hunting trip at the last minute often need more equipment from local stores, Montgomery said.
"They don't have the orange vest or hat or something," he said, making them prime customers.
Most of his customers are regulars — hunters who have been coming to the Flat Tops for as many as 20 or 25 years. They plan and save for the trip all season, but even they are spending slightly less this year, he said.
For instance, fewer hunters were buying scent this year, a somewhat costly addition to mask the hunters' smell in the field.
Montgomery said he's hoping the rest of rifle season, starting Oct. 6 and continuing sporadically through Nov. 21, will bring a strong close to the season.
More local and out-of-town people seem to be hunting this year as a cheap way to have meat available all season, Penny's Diner waitress Sherry Nelson said.
"There was a foursome from Wisconsin (in the restaurant recently) who said it was worth it for the meat," she said.
She said her sons have been hunting this year, too, and her eldest bagged an elk on the first day of the season.
"If it wasn't for hunting, I don't think we'd make it," Nelson said.
The railroad also has helped businesses along this year as more employees from outside areas, such as Grand Junction, get "bumped" to Yampa, where they spend more money at restaurants than local railroad workers.
Nelson said that in her four years at Penny's Diner, there was a dip and then a resurgence in business. This year is an increase in the past two years, she said, but not as good as her first year at the restaurant.
Just across the street, Flat Tops Liquor and Royal Hotel manager Stephanie Crisp echoed those comments.
She said business has been steady this year as hunters have come into her shop, but she also said they're not spending as much as in previous years.
"It's better than last year; it's starting to pick back up," she said. "As far as being a better year, it's the hunters" and more out-of-town visitors.
Crisp said she's holding weekly specials and a weekly $50 drawing to try to entice new customers.
"It's good to have the hunters in; it definitely helps the whole economy of the town," she said. "Hopefully, it lasts through rifle season."