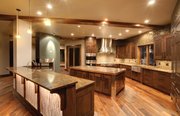 Steamboat Homefinder
Visit SteamboatHomefinder.com for more real estate news.
Notable sales
Notable high-end home sales from spring and summer
April
■ Anglers Drive, $4 million for 6,541 square feet on an acreage in the city limits. Original asking price was $6.7 million. Sale price: $611 per square foot.
June
■ Elkins Meadow, $2.98 million for 7,401 square feet. Sale price: $402 per square foot. On estate lot with deeded open space.
August
■ Stonebridge Park, $3.2 million. Original construction price $6.34 million. Latest asking price for bank-owned home was $3.88 million. Sale price: $377 per square foot
September
■ Agate Creek Road, $3 million for 6,252 feet (built in 2005). Sale price: $480 per square foot.
■ Brady Trail in Catamount Ranch: $2.99 million, bank-owned. Original construction price was $6.7 million in 2004. Sale price: $365 per square foot.
Steamboat Springs — The top end of the Steam­boat luxury home market continues to sort itself out after a season that saw a home on Anglers Drive sell in April for $4 million, down from an original asking price of $6.7. The transaction at once affirmed the desirability of the Steamboat market and the need to reset prices.
So, what does a new $4 million Steamboat home look like as the fourth quarter of 2010 approaches? Chris Paoli thinks he has the answer.
Paoli, a broker/owner with Colorado Group Realty, is marketing developer David Zedeck's 7,563-square-foot home just completed on Aspen Ridge Road in Dakota Ridge. It's listed for $4.1 million.
Paoli said he thinks the home realistically sets the standard for the new top of the market in the Steamboat market where it stretches into the southern flanks of the South Valley.
"This house is like an Aston Martin," Paoli said. "It's not a Corvette. It has the highest finishes, and we priced it at the comps."
Visitors to the home cannot help but come away impressed by the extensive use of furniture-grade walnut in flooring, paneled ceilings, doors and built-in cabinetry. It's everywhere.
However, the thematic design qualities that make a place for this home among the newer, "mountain contemporary" properties in the market are defined by several contemporary fireplaces that eschew the ubiquitous gas logs in favor of ribbon flames. Custom translucent panels with etched aspen motifs do double duty as glowing room dividers and an accent in the kitchen bar.
Looking for a conversation starter? One of two kitchen islands in the home has high-end bicycle components in the form of techy-looking disc brakes embedded in a custom tinted concrete countertop. It's the island meant for serious chef's work. The second island is several feet away in the ideal location for bar stools and discussing the day's ride over appetizers.
Traci Clark, of Finial Design, said she tried to walk a line between a more traditional mountain home and one with a modern aesthetic.
The tone is set when visitors arrive in the driveway and are confronted by three reflective glass garage doors that mirror the views of aspen trees, meadows and mountains looking across the valley.
"Those doors announce, there's going to be something special in here," Clark said.
The home was designed by Matt Wagar, of Moon Hill Designs, and the general contractor was Rick Erickson, of Erickson Construction.
Zedeck's house is priced at $542 per square foot, before the value of a 5-acre wooded lot is taken into consideration. That number is higher than four of five high-end home sales that stood out this spring, summer and fall. An exception was Mark Halvorson's 6,541-square-foot house on rare acreage within the city limits on Anglers Drive. At $4 million, it sold for $611 per square foot. The asking price during construction was $6.77 million.
Will Bashan's 8,816-square-foot house on 21 acres off Routt County Road 14 on Blazemark Trail sold for $4.3 million. But that property, on 21 acres, sold for $487 per square foot.
Among five homes that sold for $3 million or more, two sold for less than $400 per square foot, but both were bank-owned and consequently subject to steeper discounts as the banks sought to clear the properties off their books.
As much as the correction in Steamboat's market has been painful, Paoli said he thinks the narrow gap between asking prices and sales prices in today's market reflects that the values attached to real estate in today's market are more appropriate than they were in 2007.
"I don't think anybody's given enough thought to the (likelihood) that the Steamboat market wasn't really high as it appeared to be at its peak," Paoli said.
There were a few single-family home sales in the middle of the decade in the $750 to $900 per square foot range that proved to be anomalies, he said.
"The market was still really $500 to $600, but (sellers') expectations went way up above where the market was," Paoli said. "This house would have been priced easily at $750 (per square foot) at the perceived peak of the market three years ago. This is healthier — everyone's realistic now. The spread between buyers and sellers is very narrow, and there are still people with a lot of money who want to come here."
Paoli said his client understood mid-construction that the market had changed to the extent that he would not be able to price the Dakota Ridge house at a profitable margin. However, Paoli said, Zedeck, who was involved in the details of construction, made the strategic decision that his best option was to continue to build to the highest finish levels. Hence the devotion to fine-grained walnut, appliances with expensive reputations, costly window and door hardware, an artistic chandelier in the foyer, raised sink bowls in bathrooms and many other expensive features.
Clark said Zedeck didn't say "no" to anything, whether it was the legion of expensive oil-rubbed bronze hardware on all of the doors or the drawers in many built-in cabinets throughout the home.
"If someone's paying $4 million for it, they still want a really nice product," Paoli said. "That's a ton of money. Two million dollars is a ton of money. (Zedeck) has been able to benefit from really good financing terms. He's still going to lose money, but it would be a bigger loss is he didn't do it right."
— To reach Tom Ross, call 871-4205 or e-mail tross@steamboatpilot.com