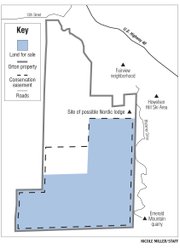 The site
Orton owns a total of about 1,200 acres on Emerald's north side, south and west of the Fairview neighborhood and south of 13th Street, also known as Twentymile Road. The 586 acres he has offered to the city are outside of city limits and lie directly west of the dirt portion of Blackmer Drive that winds up the mountain from Fairview. Orton long has allowed public use of the land for recreation such as hiking and mountain biking.
The acres for sale include numerous singletrack trails, the Heart Meadow, the large Upper Meadow, the Lane of Pain and many other areas enjoyed by mountain bikers.
Steamboat Springs — Lyman Orton rides a mountain bike with the exuberance of a teenager.
Orton, 68, flew around trails in the Upper Meadow — also known as Prayer Flag Meadow — last week on a sunny afternoon on the north side of Emerald Mountain. The longtime philanthropist and landowner who splits his time between Vermont and Steamboat Springs was atop a well-used Moots cycle that he said dates to the mid-'90s.
In a small backpack slung over his shoulders, Orton carried maps of his sprawling, jaw-droppingly scenic property that were wrapped in wax paper to prevent damage from sweat.
He didn't need the maps for his own use. Orton probably could pedal his singletrack with his eyes closed. The maps were to show others what he has in mind.
The Steamboat Springs City Council will discuss the city's potential purchase of 586 acres owned by Orton during a daylong budget hearing Oct. 5 in Centennial Hall. This month's signing of a conditional contract between Orton and the city has ignited a local debate about the value of preserving an Emerald Mountain jewel for the public versus fiscal responsibility and the use of taxpayer dollars as the country struggles through an economy battered by recession.
The purchase is pending public hearings, City Council approval and other factors. It would cost the city about $700,000 up front and as much as $750,000 more in the next five years, in addition to a $600,000 Great Outdoors Colorado grant that could be finalized in coming weeks and on which the purchase depends.
City attorney Tony Lettunich said last week that a tentative closing date is Dec. 20, should all contractual conditions fall into place.
Orton and several others involved with the Howelsen Emerald Mountain Park group described last week a vision for the acreage that's as far-reaching as the views from Upper Meadow.
"We're going into a master-planning phase," said Dan Smilkstein, president of the group's board of directors.
Orton said the city would have the right to build eight 500-square-foot cabins and one 2,500-square-foot cabin on the acres, which are under a Yampa Valley Land Trust conservation easement. Land Trust Executive Director Susan Dorsey confirmed those rights.
"It creates an opportunity for a whole different kind of experience," Orton said about the cabins.
He and forester Bob Mag­nuson, of natural resource consultants Western Bionomics, discussed piles of beetle-kill logs as potential cabin material. Rogue Resources created the piles during logging operations on the site.
Those cabins could serve as outposts, so to speak, from the vision's central point: a lodge that would house a Nordic ski center in the winter and youth-focused, community functions in the summer, such as a permanent home for the Yampa Valley Science School.
"The center (lodge) concept was one of the strategic plan centerpieces," said Gretchen Van De Carr, executive director of the Rocky Mountain Youth Corps. "There is no other facility even close to this in Northwest Colorado."
Gretchen Sehler, Town Chall­enge Mountain Bike Race Series director and trails coordinator for Routt County Riders, said there's about 15 miles of trails on the land for sale by Orton.
Van De Carr said people of all ages, physical abilities and fitness levels — including those participating in summer camps, corporate groups and more — could use the lodge.
"My vision is you've got 5-year-olds running around along with the Dan Smilksteins," she said.
Smilkstein also is director of the North Routt Coureur des Bois cross-country ski race and an accomplished endurance athlete.
He said discussions of the Emerald Mountain project began at least three years ago.
Van De Carr said she's heard high levels of interest from potential donors in several venues, including at the Northwest Colorado Rural Philanthropy Days last year at the Sheraton Steamboat Resort.
"Every single funder was extremely excited," Van De Carr said about that event. "This appeals to a very broad range of citizens."
She and Smilkstein said plans for fundraising, private donations and more would be solidified in months ahead.
"Certainly, we'll start putting a plan together," Van De Carr said. "Don't underestimate our ability to leverage the local funding with outside funding."
She and Smilkstein gave an optimistic timeline for the facility's opening.
"We'd love to see it by 2015," Van De Carr said.
Investment
The site selected for the future Nordic lodge is on a 70-acre parcel owned by Orton that is immediately south of Fairview and not included in the 586 acres for sale to the city.
Orton said because it's not under a conservation easement, the 70-acre parcel has a higher proportional value than the 586 acres for sale. Including the 70 acres in the current offer would make the total cost prohibitive, he said.
He told the City Council on Tuesday that the city's contributions in the next five years — as much as $150,000 each year, matching funds raised by the Howelsen Emerald Mountain Park group — could go toward a future purchase of the 70-acre site.
"I'm not holding this thing back like a club or for leverage," Orton said in Centennial Hall. "I want to see this thing happen."
Orton said he bought the total of 700 acres under a conservation easement in two separate purchases, in 1992 and 1996, for a total of $1.58 million. The 586 acres for sale to the city recently were appraised at just more than $2 million.
"This wasn't an investment to make money on this thing," Orton said.
Smilkstein said that although a city purchase of the land could create a longtime economic engine, arguably the greatest val­ue would be intangible.
"It's an investment in the quality of life in Steamboat Springs," he said.