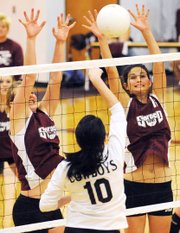 Oak Creek — The Soroco High School girls volleyball team faltered for the first time in its regular season Friday night when it dropped a four-game contest against Vail Christian.
The Rams were right back to taking care of business Saturday af­­ternoon as they defended their home court with a four-game victory against league foe Meeker.
Soroco lost its match Fri­day, 20-25, 25-17, 25-15, 25-21, and then won Sat­­urday, 25-18, 25-27, 25-11, 25-21.
"We need to eliminate errors. In the game we lost (Saturday), we had way too many," Soroco coach Kim Reeves said.
Still, the win improved the team to 6-2 on the season.
It was heads-up play that made the difference for the Rams at home against Meeker.
The team walked to comfortable victories in the first and third games and earned the decisive win in the fourth thanks to intelligent taps and strong defense as much as the big swings that usually define volleyball success.
Senior Corey Snyder was central to that effort. She finished with a team-high 14 kills and set the tone for the team. She had plenty of powerful hits, but just as often tapped the ball over the net, finding and exploiting holes in the defense.
"I was just tipping it right in front of them," Snyder said. "We pulled it together and did our best."
Soroco trailed much of the second game, the only one it lost, before rallying to tie things at 18. The score still was tied at 21, and Soroco even led, 25-24, after Lindsay Miles poked a ball over for a point. Meeker strung together three consecutive points, however, to win.
Michaela Meyer led the team down the stretch in the fourth game. She made it 23-21 with a big kill and then tapped the ball in for the final point.
Miles led the team with 21 digs, and her sister Shelby Miles had 14 to go along with five aces.
Soroco returns to action at 5:30 p.m. Friday at home against Plateau Valley.
— To reach Joel Reichenberger, call 871-4253 or e-mail jreichenberger@steamboatpilot.com