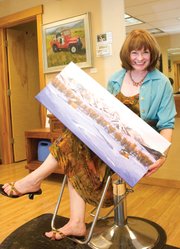 Past Event
Saturday, September 25, 2010, 5 p.m. to 7 p.m.
,
All ages / Free
Steamboat Springs — Since leaving the Sleeping Giant Gallery in early August, local artist Cully Kistler is looking forward to where her life's passion will go and where it will take her.
The plein-air oil painter said she no longer feels the restrictions that sometimes come with hanging in a gallery, and she is showing her art at such nontraditional venues as The Cutting Room, a hair salon on Weiss Drive.
For a woman who paints on scene, from live parties in the Napa Valley to peaceful scenes in Hawaii, she's most at home painting in the great outdoors of Routt County.
"You're never at a loss for something to paint here," she said.
Just before the opening of her show, One Woman Show, on Friday, the walls of the hair salon were hung with several pieces depicting pleasant, rural scenes punctuated with relics of Routt County's Western heritage. There are several old farmhouses and barns, a collage of old schoolhouses in the area and Kistler's favorite, a large painting of a collie sitting in a 1947 Willys Jeep she found on a local ranch.
"It gives the painting a story," she said about the realism and history attached to her work.
Salon owner Jeny Nathan said that this is the fourth art show she's held at The Cutting Room and that her clients enjoy local artistry more than commercial photographs of hairstyles.
"There's only so many times you can look at the same hairstyle," Nathan said. "I've had a lot of people really excited about having local stuff like all the barns."
She said one of her clients told her about Kistler's work, and when she looked up the paintings, she was struck by the organic colors and comforting feel.
"She's got a good eye," Nathan said. "It's something I would put in my home. It's just so homey."
Just as Kistler hopes, Nathan feels a personal connection to the painting of a chicken and several chicks, mainly because Nathan owns and loves chickens.
Kistler said that painting came from an image from a golf course where she was captivated by the way the green grass reflected onto the chicken's white feathers.
It's not uncommon for Kistler to be inspired by fleeting images of lights and color she finds in the outdoors.
She captures those images in large brushstrokes and paints from as far away from the canvas as she can. She once even attached a long paintbrush to the end of a broomstick, taking in the big picture and allowing the outdoors to seep into her work from all directions.
"You don't want to stay in front of the canvas," she said. "You want to back off as much as you can. It just keeps you looser."