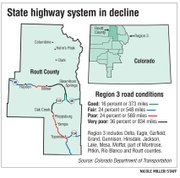 Steamboat Springs — In the midst of a state budget crisis and with the recent news that slightly more than half of Colorado's main highways are in poor shape and deteriorating further, Routt County residents can count themselves relatively fortunate. Despite the ominous outlook for the region's highways, locals can look forward to a $7 million reconstruction of another section of Colorado Highway 131 in 2012.
However, highway advocates say some of the recent and pending highway projects in rural Northwest Colorado may be obscuring the long-term crisis.
"People see highway projects on Highway 13 (south of Meeker) and Highway 14 from Muddy Pass toward Walden, but those are being funded by federal stimulus dollars," George Krawzoff said. "But there's been no vote in Congress to extend the authorization by which we get federal funding. Federal funding is completely uncertain right now."
Krawzoff is the former city of Steamboat Springs transit director and is in the midst of his first term on the Colorado Highway Commission. Like many state officials, he's at a loss about how Colorado will come up with another $500 million annually just to maintain the state's main highways, including Colo. 13 and U.S. Highway 40, in their current condition.
The Colorado Department of Transportation released a report Sept. 15 stating that 52 percent of 9,144 miles of the state and federal highways it's responsible for maintaining are in poor condition.
A glance at CDOT's map of highway conditions in Northwest Colorado reveals that few of the state's main roads are all in one condition — most are rated poor in some stretches and good in others, a reflection of maintenance patterns. An exception is lightly used Colorado Highway 318 leading northwest from Maybell through Browns Park in Moffat County. It's rated very poor for its entire length.
U.S. 40 ranges from good to very poor to fair as it traverses Routt County from east to west. The same can be said of Colo. 131 on its trip through South Routt to Eagle County.
And the rating itself might mislead some — it's a measure of how many years of service a stretch of road has remaining, not qualities such as the width of the shoulders, for example.
Insufficient funding
Ratcheting up concern about the state's declining transportation infrastructure is the assessment that if the state invests $260 million annually on roads in the next two decades, the proportion of poor highway miles will grow to 78 percent.
Where does that leave western Colorado's highways that carry vacationing skiers alongside trucks loaded with hay and coal? Possibly at the back of the line.
"Right now, an environmental impact statement is being conducted on the I-70 viaduct in Denver" near the interchange with Interstate 25, Krawzoff said. "It's at the end of its useful life, and the estimated construction budget is $800 million. Just that facility, if it were to fail, would be a blow to the heart of Colorado."
When that bill comes due, he pointed out, it would represent nearly two-thirds of CDOT's annual budget.
"The 2007 Blue Ribbon Panel recommended that CDOT really needs another $500 million (each year) to fix existing roads," Krawzoff said. "From a high of $1.6 billion, the annual budget is now down to $1.028 billion. The Blue Ribbon Panel said that to take Colorado into its desired future transportation infrastructure, CDOT really needs another $1.5 billion annually."
Help from FASTER
As chairwoman of the North­­­west Transportation Plan­ning Region, Routt County Commi­­­ssioner Diane Mitsch Bush is in the thick of Colorado's struggle to maintain its highway system. She and fellow committee members from neighboring counties work collaboratively and in a spirit of bipartisanship, she said, to prioritize state and federal funding opportunities to improve the state highways that link them together.
The Northwest TPR includes elected officials from Rio Blanco, Grand, Jackson and Moffat counties as well as Routt.
The state legislature's decision in 2009 to raise vehicle registration fees is what's keeping the Western Slope's rural communities in line for road repair funds, Mitsch Bush said.
The FASTER funds generated by the fee hikes will provide $7.2 million to reconstruct five miles of Colo. 131 south of Steamboat Springs into the entrance of Oak Creek Canyon with 8-foot paved shoulders and passing lanes in 2012, Mitsch Bush said.
But that's only if voters reject Proposition 101 in November, she said. The measure would severely cut vehicle registration fees and taxes along with reducing the state income tax rate.
"FASTER has really been a godsend," Mitsch Bush said. "I know people seem unhappy their registration fees went up, but highway repairs cost money. Colorado 131 isn't a repair but a reconstruction down to the base."
The work being done on Colo. 14 in Jackson County this month comes from a pot of FASTER funds devoted to economically disadvantaged areas. The money is available only when other projects come in under budget.
Neglected roads get costlier
Krawzoff draws an analogy between the need to fund maintenance of the state's highways and the need for automobile owners to change their engine oil regularly.
"You can replace the oil in you engine or you can spend more money to replace your engine," he said. "Taking care of our roads is the same. Once you let a road decline, it's far more costly to repair it."
It's one thing to grasp that concept and another to find the money to do something about it, Krawzoff said.
Virtually all new highway construction is being discussed now in terms of adding toll lanes, he said. But raising taxes to fix the state's main transportation arteries is politically unpalatable as 2010 nears its end.
"You can't talk taxes right now," he said. "People run
for cover."
He noted that the state's gasoline tax that pours money into the Highway Trust Fund has been seeing declining numbers due in part to energy conservation efforts. The gas tax is a flat fee unlike traditional sales taxes that are imposed on a percentage basis. And the amount hasn't been increased since 1993.
Mitsch Bush said she thinks it's time to take action on increasing gasoline taxes in order to maintain Colorado's investment in its transportation infrastructure.
Krawzoff especially is sensitive to Colo. 14, which leads north to the Wyoming state line and Interstate 80 at Laramie. Other travelers on the road head east from Walden to climb Cameron Pass, the most direct route to Fort Collins and the northern Front Range.
He said current work is adding only partial shoulders to a stretch of the highway north of Muddy Pass, but any improvement in that regard is a marked safety improvement.
"It's tragic," he said. "I've seen rollovers when I drive that road. When you have no shoulders, the danger of rollover accidents is increased."
The current state highway funding formula is like a Rubik's Cube resulting from separate bills produced by the state's two legislative bodies. The formula was based on the assumption that the state and national economies would continue to grow.
Mitsch Bush said she's aware of Democrats and Republicans at the state level who are philosophically receptive to increasing the gasoline tax in order to generate funds to help keep up with highway maintenance.
"The longer we wait, the more we'll see our roads deteriorate and the more it will cost to do it. Come on, let's do it."