2010 Sailors football schedule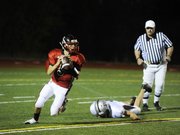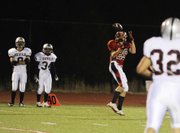 Steamboat Springs — When opportunity knocked, the Eagle Valley High School football team was at the door while Steamboat Springs was nowhere to be found.
That one glaring reason was why Eagle Valley walked away from Gardner Field on Friday night with its first win against Steamboat Springs High School since 2006, a 21-12 triumph in the Western Slope League opener for both schools.
The Devils had opportunities and took advantage, whereas the Sailors, while showing signs of growing as a team after three weeks of getting blown out, couldn't do anything when given chances.
Eagle Valley put together three long, prolonged drives — two for scores and one to end the game — and got a 70-yard fumble return by senior Bryce Stegall to get the win.
Conversely, Steamboat failed on fourth down four times inside Eagle Valley territory, including three times inside the red zone and twice inside the Devils' 10-yard line.
"Hey, we're happy as heck," Devils coach John Ramunno said. "We had to work until October last year to get our first league win. Here we are in September, and we got two wins. We're tickled pink, and one of them is a league win."
The Devils started the scoring early in the second quarter when Stegall came away from a scrum. The 250-pounder barreled 70 yards for a score and the 7-0 lead.
On the ensuing Steamboat possession, the Sailors moved the ball inside the Devils' 10-yard line. Steamboat had four cracks from the Eagle 5-yard line and couldn't produce any points.
Eagle then put together a 12-play, 95-yard drive, capped with a Matt Kottnestette 2-yard run. The successful 2-point conversion made it 15-0.
Steamboat bounced back with a Charles Wood 65-yard touchdown run where he started up the right side before scoring inside the left pylon to cut it to 15-6.
"A couple plays could have changed the game," said Steamboat running back John Burrow, who had 106 yards on 17 carries. "We feel a little bit better. I'm sure we'll feel a little better later in the week, but not right now."
At the beginning of the second half, the Sailors put together a 16-play drive only to come up empty on fourth down from the Eagle Valley 6-yard line.
The Devils fumbled on the next play, giving the Sailors back the ball. Wood ran in another one, this time from 7 yards out to make it 21-12 with 3 minutes, 55 seconds left in the third quarter.
After forcing the Devils to punt, the Sailors had a 13-play drive again end on downs at the Eagle Valley 18-yard line.
With 8:40 left in the fourth quarter, the Devils put together their lone solid drive of the second half.
After a three-and-out, a five-play drive and a fumble, the Devils did what they needed to do. Eagle Valley picked up six first downs, ran 16 plays and used up all 8:40 to get the win.
"Now we have to learn to finish," Steamboat coach Lonn Clementson said. "We have to learn to finish. We have to get two more stops or two more catches. We're close."
Eagle Valley (2-1 overall, 1-0 in the Western Slope League) next plays at 7 p.m. Friday at home against Rifle. Steamboat (0-4, 0-1) plays at 7 p.m. Friday at home against Delta.
Game statistics
Eagle Valley 21, Steamboat Springs 12
Eagle Valley Steamboat
16 First Downs 15
46-240 Rushes-Yards 36-228
4-8-1 Comp-Att-Int 8-23-0
24 Yards Passing 136
264 Total Yards 364
4-41 Punts-Avg. 2-35
0-0 Fumbles-lost 2-1
9-87 Penalties-Yards 7-45
■ Score by quarters
Eagle Valley 00-21-00-00—21
Steamboat 00-06-06-00—12
■ Scoring summary
First quarter
None
Second quarter
EV — 11:14, Bryce Stegall 76 return. (Damien Montes kick).
EV — 3:45, Matt Kottenstette 2 run. (Montes from Wyatt Bowers).
SS — 2:27, Charles Wood 65 run. (Kick fail).
EV — 0:02, Kottenstette 3 run. (Pass fail).

Third quarter
SS — 4:03, Wood 7 run. (Pass fail).
Fourth quarter
None
■ Individual statistics
Rushing
EV: Kottenstette 21-105, 2 TD; Tannier Hollis 10-40; Montes 2-2; Rafaeil Macias 11-94; Ian Bailey 1-1; Bowers 1-(-2).
S: Dylan Preston 2-3; John Burrow 17-106; Wood 12-92, 2 TD; Christian Ramirez 2-1; Evan Hornstein 2-24; Michael Savory 1-2.
Passing
EV: Bowers 4-8-1, 24 yards.
S: Ramirez 8-23-0, 136 yards.
Receiving
EV: Bailey 2-21; Miguel Dominguez 1-(-4); Zach Bukovich 1-7.
S: Kevin Gower 2-42; Savory 4-76; Wood 1-14; Randall Nelson 1-4.