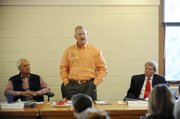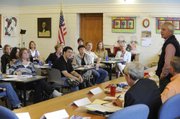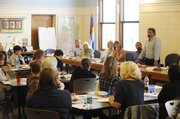 Steamboat Springs — The 90-minute First Impress­ions Candidate and Issues Forum on Wednesday was mostly tame, with unanimous consent among attendees that ballot initiatives Proposition 101 and Amendments 60 and 61 would hurt local governments and schools, and that increased educational efforts should be made about suicide prevention and drug and alcohol awareness.
But sparks flew near the end of the forum between the candidates for Routt County sheriff.
Sheriff Gary Wall, a Demo­crat, called attention to the fact that two officers supervised by All Crimes Enforcement Team Cmdr. Garrett Wiggins, his Re­­­pub­­lican opponent, were charged with and convicted of criminal acts.
Wall said Wiggins knew about one of the officer's criminal activity months before he reported it.
Wall cited a letter written by Timothy Leary, a private investigator hired by the city of Craig to review a Craig Police Depart­­ment internal investigation of Ken Johnson. Wiggins supervised Johnson, a former Craig police detective, as a member of ACET. Johnson reached a plea agreement with prosecutors in April, pleading guilty to a felony count of attempting to influence a public servant in exchange for the dropping of felony charges of accessory to a crime and embezzlement of public property.
"It is further evidenced that Commander Garrett Wiggins did not recognize or act on the possible wrongful conduct of Ken Johnson until serious performance related issues surfaced in the months from November 2008 to February 2009," Leary wrote in the Feb. 8, 2010, letter addressed to Craig City Manager Jim Ferree.
Wiggins called Wall's claim a partial truth.
"He is a master manipulator of the truth," Wiggins said.
Wiggins said it was he who asked the 14th Judicial District Attorney's Office to conduct its own investigation of Johnson after the Craig police internal investigation was inconclusive.
He said a letter written by former Chief Deputy District Attor­ney Jeremy Snow and Joseph De­­Angelo, former chief investigator for the District Attorney's Office, "poked holes" in Leary's letter and "puts me on a pedestal."
Wiggins provided a copy of that letter to the Steamboat Today. Snow and DeAngelo have publicly endorsed Wiggins for sheriff on his Facebook page.
"Notably, both Commander Wiggins and Investigator (Mark) Galvan knew from the onset that their request to have the District Attorney conduct another investigation would ultimately lead to criticisms of ACET generally and themselves specifically," Snow and DeAngelo wrote in the letter dated Jan. 8, 2009. "The two, understanding the potential fallout to their respective careers, independently and collectively determined that holding Mr. Johnson accountable was of greater importance."
Snow, now the Moffat County attorney, said Wednesday evening that the date of the letter must be incorrect and probably was meant to be Jan. 8, 2010.
He said the letter was based on a preliminary version of Leary's letter that was provided to Craig City Council members and Ferree before the final version dated Feb. 8, 2010.
Leary, reached by phone Wed­­­nes­­day evening in Arvada, referred to Ferree a question about whether he produced a preliminary copy of the letter for Craig. Ferree didn't immediately return a call seeking comment.
Despite the confusion over the date of the letter, Snow validated its content.
"I do think the letter accurately refutes some of the inaccuracies in Timothy Leary's report, but we weren't able to address all of them," he said.
Also at Wednesday's forum, Wall and Wiggins differed on whether the county should adopt the city of Steamboat Springs' social host ordinance, a law that punishes adults who allow underage drinking at their residences.
Wiggins supported the social host ordinance, saying it's important to have a deterrent for parents and other adults who condone underage alcohol consumption. Wall said he's opposed to the ordinance because it's not well enforced and "there's an incredible opportunity for that to be abused" by law enforcement.
Both, however, favored more drug and alcohol education in schools.
Wall said part of the problem with prescription drug abuse among teens in Steamboat relates to a lack of parental supervision. He also said he doesn't believe in zero-tolerance policies and wants to work with youths to keep them out of the legal system, when possible.
"My deputy sheriffs are looking out for ways to help people instead of the perception that they're out to get somebody," Wall said.
Before the candidates at the forum introduced themselves, Routt County Finance Director Dan Strnad gave a short presentation about potential impacts of the November ballot measures.
He said full implementation of the measures would cost the county $4.8 million in lost revenue. Dale Mellor, Steam­­boat Springs School Dis­­trict finance director, also attended the forum. He said implementation of the measures would cost the district $9.5 million.
Routt County Ex­­­tension Agent Karen Mas­­sey asked the candidates — Steve Ivancie, running for Colo­rado House District 57; county coroner candidates Rob Ryg, the incumbent, Darrel Levingston and Kevin Nerney; Wall and Wiggins; and County Commissioner Diane Mitsch Bush, County Clerk Kay Weinland and County Treasurer Jeanne Whiddon, who are running unopposed — whether they supported the ballot measures.
The room fell silent.