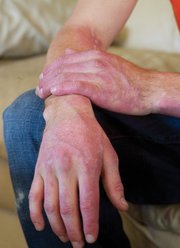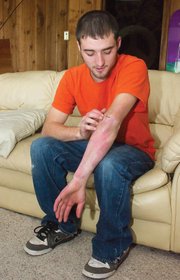 If you go
What: Fundraiser for Nate Gould and Jordan Worden to help pay medical costs resulting from burns suffered in an Aug. 24 house explosion in Kremmling
When: 5 p.m. today
Where: Sweetwater Grill, 811 Yampa Ave.
Cost: Donation of $10 to $20 requested at the door. Donors receive drink tickets.
Auctions: Event includes a silent auction with items from local businesses, live music and more. A live auction will be held for dates with residents Lindy Barrett and Jay Ginther.
How to help: An account for the two men has been set up at Wells Fargo Bank. Contributions can be made in the name of Nate Gould or Jordan Worden.
Steamboat Springs — Friends of two local men who suffered serious burns in a Kremmling house explosion are hosting a fundraiser tonight at Sweetwater Grill to help with medical expenses that could top $200,000.
Nate Gould and Jordan Wor­den, both 23, were badly burned when fumes from primer they were using in the crawl space of a downtown Kremmling home ignited and caused an explosion at about 3 p.m. Aug. 24. Gould and Worden were taken to Kremmling Memorial Hospital and then flown to University Hospital in Denver.
The men were performing mold remediation on behalf of Steamboat Springs-based Dry Masters Restoration.
Both men received temporary skin grafts that are called xenografts and use pig skin.
Gould suffered significant burns on his forearms and the backs of his legs. Worden suffered third-degree burns on his forearms and serious burns on his hands.
Both have weeks, if not months, before full recovery. Wor­­den said doctors have told him not to expose his hands or forearms to direct sunlight for as long as a year.
Last week in the apartment they share off Après Ski Way, Worden and Gould showed off forearms that looked significantly better than the red, raw skin visible in photos from the hospital days after the explosion.
"The doctor was really, really surprised at how well we healed," Worden said. "I was surprised, as well."
Worden is far from being able to return to work. He said he can't grip heavy tools and plans to return home to New York for a couple of months, "to fatten up and live rent-free." Worden said he's lost about 20 pounds since the explosion.
Last week, Gould had heavy bandages around his legs, just below the knees. He said that the skin there is sensitive to the touch and that doctors have said it'll be about six weeks before those burns are fully healed.
The men were employees of Steamboat Flood Suckers and working independently for Dry Masters at the time of the explosion.
Denver lawyer Marc Levy confirmed Wednesday that he was investigating the incident and would represent the men in possible litigation. Calls to Dry Masters have not been returned in the weeks since the explosion.
An official at the Denver office of the federal Occupa­tional Safety and Health Ad­­min­­­istration said OSHA has issued Dry Masters 13 citations related to the incident. A Freedom of Information Act request is necessary to obtain the citations, and they were not available Wednesday.
It's been an eventful month for Worden. Police arrested Steam­­­boat resident Stephan Har­­ring­­ton, 42, on suspicion of second-degree assault after he reportedly hit Worden with a bar glass in Ghost Ranch Saloon early Friday. Ghost Ranch Saloon co-owner Amy Garris said Friday that it was not clear how or why the fight started.
Worden received 25 stitches to his head at Yampa Valley Medical Center, according to the arrest affidavit.
Tonight's event is not related to that incident.
Neither Gould nor Worden has medical insurance. Gould said medical costs related to the Kremmling explosion likely would total more than $100,000 for each man. Both were in intensive care for five days follwing a helicopter ride to University Hospital that Gould said cost about $40,000.
Tonight's fundraiser is an effort to ease those costs. Flood Suckers principal Jon Sanders, also of Ski Town Commercial Real Estate, said the event at Sweetwater Grill would include a silent auction with items from local businesses, restaurant gift certificates and more.
The event also features music and a live date auction with Steamboat Residents Lindy Bar­rett and Jay Ginther. Sanders said donations of $10 to $20 would be requested at the door.
An account for the two men has been set up at Wells Fargo Bank. Contributions can be made in the name of Jordan Wor­­den or Nate Gould.