Document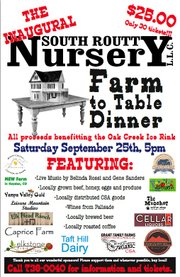 If you go
What: Farm to Table dinner
When: 5 p.m. Saturday
Where: South Routt Nursery, Colorado Highway 131 in Phippsburg
Price: $25; about 10 tickets remain
All of the food is donated by local producers, and proceeds will go to the Oak Creek Ice Rink. For more information or for tickets, call the nursery at 970-736-0040.
Steamboat Springs — The bread is made with wheat from a farm near Hayden and baked in Oak Creek. The roast comes fresh from South Routt County. And the eggs for the quiche? The chickens are clucking out back.
South Routt Nursery in Phip­psburg is holding an inaugural Farm to Table dinner Saturday using only local produce, down to the herbs in the rub on the roast, as a celebration of the summer and a way for local people to find local food.
Only 30 tickets were available for the event, and on Tuesday morning, Stagecoach residents Cindy and Steve Glass snagged Nos. 18 and 19.
Nursery manager Paulie Anderson said all of the products for the meal are donated from local producers, and proceeds from the $25 tickets will go to the Oak Creek Ice Rink.
The dinner also was intended to celebrate a new greenhouse built at the nursery after winds destroyed one in May, but winds again were wreaking havoc on the greenhouse as workers tried to put up giant plastic panels.
Regardless, the nursery also has a new outdoor demonstration kitchen with a grill that will be used to cook the meal and seating under the trees for nice weather.
"It's the perfect property to have a place in South Routt for people to gather and have fun," Anderson said as he showed off the rotisserie attachment on the grill.
He and nursery owner Chris Zuschlag said they hope to make the meal a regular event, possibly several times a summer as produce comes into season.
Among the items that will be used are beets and carrots from the South Routt Community Garden at the nursery. Along with the plots residents rented for the season, the nursery also has been tending a plot it will pull from. Anderson said there will be no onions, however — an animal beat them to it.
The rest will be fair game.
— To reach Zach Fridell, call 871-4208 or e-mail zfridell@steamboatpilot.com