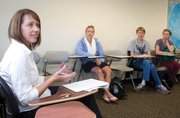 Steamboat Springs — The Colorado Mountain College Board of Trustees took no action Monday regarding the stalled $23 million proposal to build a new geoexchange facility and secondary access road at Alpine Campus in Steamboat Springs, but system officials are pressing forward regardless.
During a conference call after Monday's meeting in Leadville, CMC President Stan Jensen said the college would continue doing what it's been doing: exploring other options for the Steamboat Springs project.
The viability of that project has come into question since the Steamboat Springs City Council and members of the public expressed concerns Sept. 7 with the access road proposed for the north side of Lincoln Avenue at 13th Street. Those worries include that the road would affect traffic at the 13th Street intersection and encroach on Iron Springs and West Lincoln parks. Concerns about limited space at the existing campus and the road's impact to the hillside at the western entrance of downtown also were raised.
Jensen said options for the project include exploring other locations in Steamboat and Routt County as satellite campuses, or moving the existing campus.

Another possibility includes reviewing the existing Crawford Spur off 12th Street, a temporary fire and emergency services access, for the secondary access road, Jensen said.
The spur was identified early in the planning of the new facility as an option for the secondary access road, but 13th Street became the preference.
Jensen said re-engineering the secondary access road at 13th Street to address council's concerns isn't an option. After spending $500,000 during the past 16 months, he said the road was engineered to the city's specifications.
"It's been frustrating," Jensen said.
The secondary access road is a requirement of the city for fire and emergency services per the intergovernmental agreement CMC signed with the city in 1997.
Jensen said there's been some confusion about what the agreement requires. He said CMC has been seeking clarification.
Fire Marshal Jay Muhme said the agreement states that future renovations to the existing campus would determine whether the access road was necessary. Muhme said the construction of new buildings and significant renovations would trigger the need for the access road, while the city didn't require it of smaller CMC projects in the past.
"It, right now, deserves and is required to have a secondary access," he said about the campus. "We allowed them to put a temporary access until they built another building or made sizable renovations."
Jensen said CMC would continue to work with the city on other options for the project, but another presentation before the City Council has not been scheduled. He said there is no timeline for the project.
"We are still very much committed to Routt County and Steamboat Springs to provide the best higher education possible," he said.