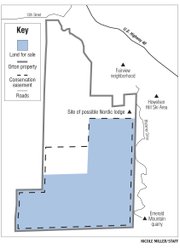 Steamboat Springs — Economic factors were at the heart of much of Tuesday night's Steamboat Springs City Council conversation about a potential Emerald Mountain land purchase, as supporters said the site could become a huge economic draw while city officials urged caution amid an excruciatingly tight budget.
Represent­atives of Howel­­sen Emer­­ald Mountain Park, Mains­­treet Steamboat Springs, Rocky Mountain Youth Corps, Routt County Riders and the Steam­­boat Springs Nordic Coun­­cil, along with several members of the public, spoke in favor of the city's potential purchase of 586 acres owned by Lyman Orton on Emerald's north side. Supporters cited a vision for the site that includes Nordic skiing in winter, youth programs in summer and a building that would house those functions and others, creating a year-round attraction for Steamboat residents and visitors.
City officials have reached an agreement with Orton for a purchase that would cost $1.3 million up front, plus additional city contributions totaling as much as $750,000 in the next five years. Those additional contributions would top out at $150,000 per year and would be used to help implement the vision for the site. They also would match funds raised by the Howelsen Emerald Mountain Park group.
Steamboat Springs City Coun­cil President Cari Herma­cinski cautioned that the city's purchase of the Emerald Mountain land is far from final. The purchase contract is pending several factors, including approval by the council in two public hearings next month and the city's ability to put a $600,000 grant from Great Outdoors Colorado toward the up-front purchase price.
The contract would give the city a maximum five-year obligation of about $1.5 million, assuming the $600,000 grant is used. Deb Hinsvark, the city's interim finance director, has said the city's balance of $700,000 for the up-front cost would come from the capital improvements fund. That fund will have about $3.8 million available in 2011.
City attorney Tony Lettunich said the city's contract with Orton is essentially a placeholder while the process moves forward.
"There's a lot of miles between where we are right now and closing sometime in December," Lettunich said.
But there was no shortage of enthusiasm in Centennial Hall on Tuesday. Tracy Barnett, of Mainstreet Steamboat Springs, read City Council members a letter from the downtown promotion group's board of directors. The letter acknowledged the down economy and struggling city revenues but said the results of buying the land would be felt for generations.
"There is no bad time to create a legacy for our children, our grandchildren and ourselves," Barnett said.
Dan Smilkstein, president of the Howelsen Emerald Mountain Park group and a longtime advocate of Nordic skiing, said the purchase could have lasting, widespread economic benefits.
"I think a lot of people, maybe, see this purchase as an extravagance," he said. "I look at it much differently."
Orton owns a total of about 1,200 acres on Emerald's north side. The 586 acres he has offered to the city are directly west of the dirt portion of Blackmer Drive that winds up the mountain from the Fairview neighborhood.
"I'd like to see us get the property and close it sooner rather than later," Councilman Walter Magill said.
Hermacinski asked those in Centennial Hall to consider the city's budget in its full context.
"I would encourage each of you as community members to attend our budget hearings on Oct. 5, because when we talk about items in a vacuum, even things that are truly visionary, you don't see the competing interests," she said. "We are truly going off a budget cliff … we've got to fill potholes and we've got to keep water coming out of the taps."