Photo Gallery
Laps for Lindsay fundraiser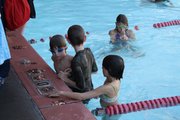 How to help
Those who weren't able to attend the event but would like to contribute can mail checks, payable to the Lindsay Bathke Family Foundation Donation Fund, to P.O. Box 771678, Steamboat Springs, CO 80477.
For more information, get in touch with Becca Gray by e-mail at becca
<
p>mgray@gmail.com
or by calling 970-819-6763.
Steamboat Springs — On Sunday at the Old Town Hot Springs, 26 people swam 1,200 laps — the equivalent of 60,000 yards — during Laps for Lindsay, an event to benefit Lindsay Labaree Bathke.
Labaree Bathke, a 1998 Steamboat Springs High School graduate, is recovering from a swollen blood vessel in her brain. After spending six weeks in a Denver hospital, the mother of two young boys was able to go home to Durango on Sept. 9.
Becca Gray, who grew up swimming with Labaree Bathke in Steamboat Springs, said she felt helpless when she saw her friend in the hospital. So with help from her mother, Nancy, they created Laps for Lindsay. Both women work at the downtown Hot Springs.
Through Sunday, Gray said, about $3,000 had been raised to help Labaree Bathke's family pay for medical expenses. Gray said she didn't know what to expect of Laps for Lindsay but was pleased with the turnout.
"It was great," she said. "We had awesome energy."
Participants started with a soak-a-thon before swimming laps in 1 1/2 hour, hour and half-hour increments. There were contests for best dive, best belly flop, and big and little splashes before children's activities and pool volleyball ended the day.
Steamboat resi­­­dents Scott and Bonnie MacFar­­land, whose children grew up swimming with the Labaree children on Team Lightning, attended the event.
"We love Lin­­­d­­say," Scott MacFarl­and said. "That's pretty much it. And her family. We're here for them."
Labaree Bathke's parents, Hud and Jean Labaree, now of Cedaredge, couldn't attend the event, her brother Blair Labaree said. Labaree said his parents attended a similar benefit Saturday at the Durango City Pool, where his sister works.
Blair Labaree, who moved back to Steamboat about two weeks ago with his family, said it meant a lot that so many people attended the event to benefit his sister.
"Steamboat is such a close-knit community," he said. "It's nice to have everyone come out to show their support."
Gray and Blair Labaree wanted to thank everyone who donated, swam or volunteered and helped make Laps for Lindsay a success.
Labaree Bathke made it home in time for her son Blair's first birthday. She and her husband, Mehdi "Dutch" Bathke, have another son, 3-year-old Jackson.
Blair Labaree said his sister still has issues with her short-term memory but gets better every day.
"She's on the up," he said.