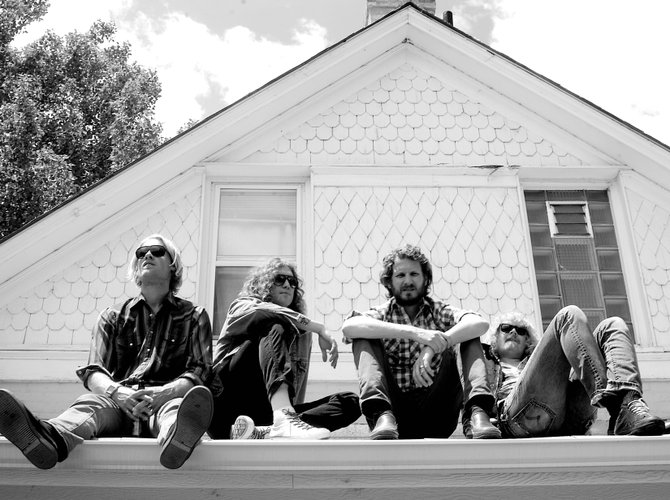 The Knew plays Saturday at Steamboat's Ghost Ranch
Friday, September 10, 2010
Past Event
Saturday, September 11, 2010, 9 p.m.
Ghost Ranch, 56 7th Street, Steamboat, CO
Not available / Free
Steamboat Springs — During last month's Mile High Music Festival, Denver-based The Knew was given a golf cart to drive across the grounds.
The band's courtesy trailer was stocked with fresh fruit and liquor, a small taste of the rock star heights many bands yearn to achieve. But The Knew guitarist Tyler Breuer said the term "rock star" doesn't, and won't ever, apply to the indie rockers.
"We're used to playing dive bars on Colfax," he said. "We're always really excited when we play somewhere and we have to tell them our requests. We'll do things like order 100 brown M&Ms. But usually, it's just four turkey sandwiches and some lager."
The four-piece band is composed of Breuer, drummer Patrick Bowden, guitarist and vocalist Jacob Hansen and bassist Tim Rynders, four anti-rock stars in their late 20s and early 30s, three of whom are married, working day jobs as engineers, consultants and in the nonprofit sector.
"It's just four guys and our instruments, and we're just trying to get a reaction out of the crowd," Breuer said.
The Knew plays at Ghost Ranch Saloon on Saturday alongside friends and touring partners, California-based The Fling. The show starts at 9 p.m., and there is no cover charge.
The bands will be coming off a Denver performance tonight that celebrates the release of The Knew's new EP, "Before It Ends."
But this is no CD release party.
"Before It Ends" will be available in two mediums, neither of which comes in a jewel case. Vinyl record enthusiasts can buy the EP on a 7-inch record, which includes free download of the songs online.
Members of The Knew are avid vinyl collectors and always have longed to release their music on the records that pay homage to their pop-punk influences of yore such as The Clash.
But releasing a full-length album on vinyl is expensive, Breuer said, so the band's 2010 full-length release, "Pulperia," came out on a CD.
"Releasing a 7-inch for a band of our stature is little more economical," Breuer said. "I buy everything on 7-inch. CDs just don't last forever. Vinyl is much more of a tangible thing you can enjoy. As people start to collect music more and more in their lives, they graduate forward to vinyl because the sound quality is better.
"Quite simply, it's just more fun."
The band formed in 2005 in Boulder where it played for years as a two-guitar and drummer outfit. Although they weren't necessarily looking for a bassist, Rynders joined them because, Breuer said, he met the height requirement. No one in the band is shorter than 6 feet, 1 inch.
They fed off of the music they grew up on, from early punk bands to Bruce Springsteen.
"Musically, we like pop punk that's especially well-crafted," Breuer said. "It's simple music, but it becomes more complex as they craft the songs."
Their simplicity propelled The Knew to stages such as the Monolith Festival and South by Southwest, but Breuer said it's difficult to cross the next threshold of recognition by breaking out of the regional touring scene.
Perhaps more trailers of fresh fruit await, but at its core, The Knew is just rock 'n' roll with heart.
"We are a bar band," he said. "And we're just a great time. It's energetic and a lot of fun. You don't have to second guess your emotions or feel any guilt."
The Knew