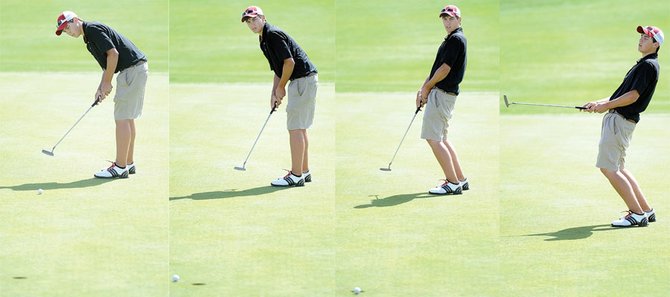 Steamboat golf places 2nd at Haymaker tournament
Thursday, September 9, 2010
Results
Complete standings for Wednesday's Steamboat Invitational Golf Tournament can be found here.
2010 Sailors boys golf schedule
Steamboat Springs — Alan Capistron shot one of the best tournament rounds of his career Wednesday at Haymaker Golf Course to win the individual title and help his Sailors to a second-place team finish.
"I didn't have any blow-up holes," Capi­stron said after his round. "I hit a lot of greens and didn't have any long putts. That always helps."
Capistron finished the day with a 1-over par 73 to lead the field at the Steamboat Invitational. He topped Battle Moun­­tain's Mike Jones by a single stroke.
Steamboat's Isiah Forsyth finished at 82, and Skyler Martin finished at 83. The Sailors finished with a team total of 238. That was just five strokes behind Battle Mountain, which won the tournament with a score of 233. The Huskies had strong showings from Jones (74), Dillon McDonald (79) and Brady McDonald (80).
Fruita-Monument was third at 239.
Capistron's 73 was the best individual score of the round, which included periods of sunshine and steady rain. Other golfers breaking into the 70s were Jones (74), Grand Jun­ction's Garrett Harrison (76), Fruita's Michael Harris (77), Meeker's Trey Morris (78), Battle Mountain's Dillon Mc­­Don­­ald (79) and Fruita's Joey Saad (79).

Steamboat coach Steve Dod­son said he took a lot of positives away from Wednesday's tournament, but he said the team needs to pick it up as a whole if the Sailors hope to do well at the regional tournament in a few weeks.
"I'm a little disappointed that we couldn't win our own tournament," Dodson said. "Alan played really well, and I'm happy for him, but we need to give him a little more support. We need a couple of players to find a way to give him some support."
Dodson said several players are close, but it seems that a few bad holes get in the way during the round.
"That's been a pattern for our team this year," Dodson said. "We will play pretty well but have one or two bad holes. You have to play all 18 to score well."
The Steamboat players will get another chance today in Craig when they play in the Moffat County Invitational. The tournament begins at 9 a.m. at the Yampa Valley Golf Course.

The field will include many of the same teams that competed in Steamboat Springs on Wednesday, along with Vail Christian and Rangely.
Vail Mountain, which played in Steamboat on Wednesday, will not play in today's tournament.