Photo Gallery
6th annual Wild West Air Fest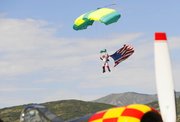 Past Event
Sunday, September 5, 2010, 9 a.m. to 3 p.m.
Steamboat Springs Airport, 3495 Airport Circle, Steamboat Springs
Not available / Free - $6
Steamboat Springs — Joe Sullivan had felt it all before. The steep incline of the plane as it sat on the runway, the rumbling whine of the propellers, and the discomfort and excitement as the 18,000-pound C-47 air­­­plane took to the skies above Steamboat Springs.
More than 60 years ago, he was a chief engineer on the clunky cargo and paratrooper machines that carried troops in and out of combat zones in World War II. On Saturday, at the Wild West Air Fest, the 92-year-old from Grand Junction got the chance to ride once more.
"It beats walking," he said as he exited the airplane after a 15-minute ride. "It brings back a lot of memories."
On the first day of the sixth annual Wild West Air Fest, hundreds swarmed through the gates at the Steamboat Springs Airport. Some, like Sullivan, were prompted to reminisce at the sight of the vintage aircraft.
Others made new memories as they climbed on the planes and learned about their history.
The C-47 was one of several World War II-era planes on display for educational purposes.
The infamous B-25 Mitchell Bomber was a popular attraction, a silver flying machine with a bubble of a front cockpit and a large machine gun hanging off its nose.
The B-25 pilot, Jim Terry, said he and his crew fly the plane across the country to air shows for more than just a good time.
"We do it because it's our
history, our heritage," Terry said. "It's up to us to keep those memories alive, and it's an honor to maintain and take care of these planes because it's like taking care of our forefathers."
Terry, too, has a connection to the airplane he fawns over today. His uncle flew the B-25 in the Pacific Theater.
Although it takes a significant amount of maintenance to keep the plane running for countless rides, he said it wouldn't carry the same impact to the public if it were roped off in a museum.
"When these veterans come up and touch the plane and get tears in their eyes," he said, "it makes it all worthwhile."
The responsibility to keep the planes intact and aviation appreciation alive and well has fallen on the next generation, like C-47 crew chief Steve Nelson.
As the C-47 bounced through the air, Nelson stood in the back of the plane, watching with a smile as the 15 riders on board gasped in awe of the views and the rawness of the flight.
Inscribed on the army green walls were the indelible signatures of men who had worked on, flown or been saved by the carrier during the war, such as Nelson's grandfather, who also was an engineer.
Nelson never got the chance to meet his grandfather, but he said he thinks about him every time he's riding in the "great, graceful airplane."
"It's really cool and all, but it's a part of history, too," he said. "It's 68 years old. It's fun to fly, but just to show the history of it … it's a flying museum."