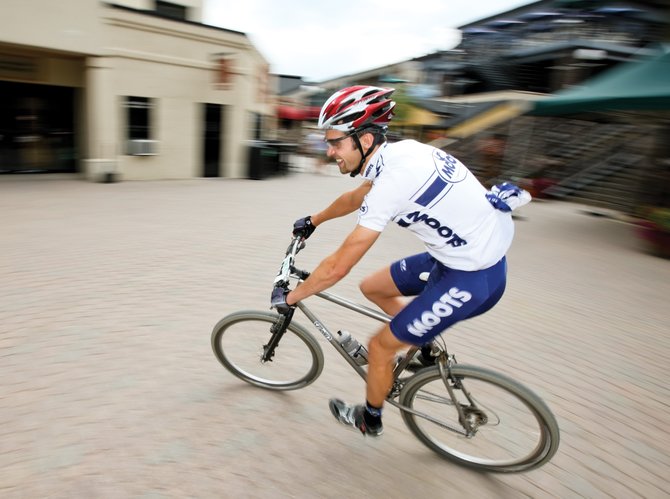 How to bike race in Steamboat and Colorado
Wednesday, September 1, 2010
Steamboat Springs — I competed in my first road bike race when I was 15. I wore sweatpants over my bike shorts, had only a Gatorade bottle in my back pocket and ended up crashing over the handlebars after touching another rider's rear wheel.
Competitive cycling can be an intimidating sport to enter, but the camaraderie, travel, participation in the outdoors, and high level of endurance training have kept me at it for the past 15 years despite numerous crashes along the way.
Colorado is a hotbed of competitive bike racing from the amateur to the professional level and including a wide variety of disciplines.
Steamboat Springs is no exception with competitors racing in everything from downhill and cross-country mountain biking to cyclocross and road racing, combined with a large community of racers and quality competitive events such as the Town Challenge Mountain Bike Race Series, Steamboat Springs Stage Race and Steamboat Springs Winter Sports Club training series. With so many disciplines and numerous events every weekend, it can be overwhelming to enter the sport.
Here is a little information to help you make sense of it all.
A good portion of race events in Colorado fall under a sanctioning body that issues race licenses, dictates rules and coordinates insurance. Many mountain bike races like the Mountain States Cup fall under USA Cycling/National Off-Road Bicycle Association rules and sanctioning but might or might not require an annual license.
On the road and cyclocross side, you will need to have an American Cycling Association annual license or purchase temporary day licenses. When you purchase an annual license, you also have the option to join and race with a registered team.
Local series such as the Town Challenge and many endurance races do not require a race license.
Another key part of sanctioned races is the category system. Categories are often divided by ability, gender and also include age-specific groups, such as Masters 35 and older. Many races will offer 10 or more categories, allowing you to race with your specific age and ability group.
To make your way through the category system, racers must acquire upgrade points by scoring good results.
Riders who stay in the lower categories despite higher ability level are known as sandbaggers. Don't be one of those.
If you need to find race schedules, your best bet is to go to the websites of these sanctioning bodies: The American Cycling Association and USA Cycling have a complete list of every permitted event.
Other good resources to check for a full calendar of Colorado racing include www.303cycling.com and www.prerace.com.
The Colorado schedule starts in early March and goes through January with multiple events every weekend. If you are just getting started, pick a few events and use those as motivators for your training. I always eagerly await the fall release of the next year's race calendar so I can start picking out events to travel to.
If you don't feel ready to jump into a big race, get a taste of bike racing through one of the many local group rides and race series. This is a great way to build confidence and experience, but it can take years to develop the skill and fitness to race at the higher levels of Colorado racing.
Thankfully, we have some of the best road and mountain rides in the state right out our backdoors for endless training opportunities.
We also have four bike shops ready to get you the right equipment, as well as national-caliber racers for you to train with.
See you at the races.
Corey Piscopo is a local cyclist, employee at Moots Cycles and promoter of the Steamboat Springs Stage Race.