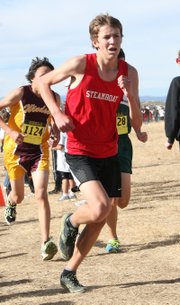 Steamboat Springs — Steamboat Springs High School cross-country athletes Jack Burger and Asher Rohde came away from Saturday's state championship meet pleased. Hayden athlete Chris Zirkle, running for Moffat County High School, meanwhile, came away as one of the day's top runners.
Zirkle was third, an improvement on his sixth-place finish last year.
Burger was 19th, and Rohde finished 34th in the 196-runner race, which took place at the Arapahoe County Fairgrounds in Aurora.
"I'm pretty happy with the way it went," Burger said. "I've never finished better at state."
Burger said he took off fast in his final state race. Rohde, meanwhile, wasn't pleased with his start. Both Sailors runners soon were right beside each other, however.
Burger eventually surged forward and fought up to 12th place as he neared the finish line. He got caught up in a swarm of racers sprinting for the chalk, however, and fell back to 19th.
That did little to ruin the experience for him.
He finished the 5-kilometer course in 17 minutes, 12.32 seconds.
"I went out pretty hard and tried to hold that place the whole time," Burger said. "The last mile was really hard, but I just tried my best."
Rohde, too, was happy with his performance, his third at the state meet. He said he ran better as the race went along, losing a few spots in the second mile but gaining most back in the third.
"I was pretty happy with my race. I was predicted to place about 90th, so I placed way better than that," he said. "It really was a lot of fun. I was really glad so many people came. All four of our guy coaches came, and some of the girls on our team came to cheer, as well."
Zirkle led the way for a Moffat County squad that saw it's state championship dreams ruined by late-season injuries.
Zirkle was third in 16:27.02, about 30 seconds behind champion Spencer Wenck, of Palmer Ridge, who finished in 15:55.42.
"I don't think anyone could have caught the guy in first, but I might have been able to get second. Still, I'm really happy with third," Zirkle said. "I was third for probably the entire race."
Zirkle's Moffat County teammate Alfredo Lebron was fourth, in 16:27.42, but they were their team's only runners in the top 70, and the team fell to eighth.
— To reach Joel Reichenberger, call 871-4253 or e-mail jreichenberger@steamboatpilot.com