Election 2010
Visit
www.steamboatpilot.com/election20010
for complete coverage of this year's races and issues.
Photo Gallery
Election judges copy ballots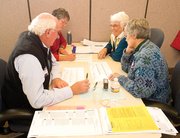 Voting deadlines
■ The last day to have a mail-in ballot mailed is today.
■ Friday is the last day to vote early at the Routt County Courthouse Annex on Sixth Street.
■ The last day to request a mail-in ballot in person is Friday.
■ All ballots must be received by 7 p.m. Nov. 2, Election Day, in the Clerk and Recorder's office in the Routt County Courthouse in downtown Steamboat Springs.
Early voting hours
Today and Wednesday: 8:30 a.m. to 4:30 p.m.
Thursday and Friday: 8:30 a.m. to 6 p.m.
Location: Routt County Courthouse Annex on Sixth Street
Clerk and Recorder's office hours
Today and Wednesday: 8 a.m. to 4:30 p.m.
Thursday and Friday: 8 a.m. to 6 p.m.
Saturday: 9 a.m. to 3 p.m.
Learn more
Routt County Clerk and Recorder Kay Weinland said voters with questions or concerns about their ballots can call her office at 970-870-5416 or visit www.co.routt.co.us.
To help
Weinland is still seeking registered Routt County voters to help with the ballot-copying process, for $11 an hour, tax-exempt. Shifts are 8 a.m. to noon and noon to 4 p.m. A third shift, from 4 to 8 p.m., will be added Wednesday. Call 970-870-5416 for details.
Steamboat Springs — Election judge Joe Roberts needed only eight words to sum up his experience copying ballots in the Routt County Courthouse.
"It's secure and boring," he said. "But it's very secure."
Four-person teams of sworn-in, paid election judges continued Monday the arduous work of hand-copying scores of ballots — filling in rectangles, one quadruple-checked vote at a time — after a coding error announced last week. The error was caused by a single, inadvertent keystroke and rendered unreadable all 5,773 ballots mailed to Routt County voters before Oct. 19.
The error could cost the county as much as $25,000 in labor and reprinting costs.
Routt County Clerk and Recorder Kay Weinland said as of Monday evening, voters had returned 1,461 completed mail ballots to county election staff. Election judges had copied 700 of those onto new ballots that the county's computerized election system will be able to read, scan and tally. So far, Weinland said, audits of the copying process indicated 100 percent accuracy. No copying errors had been found. The process started Friday.
"I am very pleased with both the progress our judges have made and also the diligence they have displayed in doing the work," Weinland said late Monday.
Earlier in the day, she spoke to a group of 12 election judges before they started a four-hour copying shift, from noon to 4 p.m. on the courthouse's third floor. She announced the bipartisan teams of four and explained the process for identifying and labeling each ballot. The copying process entails one judge reading a vote off an unusable ballot, another judge checking that vote, a third judge copying it onto a new ballot and a fourth judge checking that copy.
"What you're doing is extremely vital to the election process," Weinland told the group.
The process is recorded by video camera and detailed by the Colorado Secretary of State's office. Ballot copying, or replication, occurs in every election for damaged or otherwise unusable ballots. But last week, the executive director of voter advocacy group Colorado Common Cause called Routt County's replication scale "extraordinary" and noted a potential for human error.
"It would be my instinct that it would be better to vote a ballot that would not need to be duplicated," Jenny Flanagan said.
Many Routt County voters, though, are showing faith in the copying system and returning completed but unreadable ballots. Weinland said she would have numbers this morning of Routt County voters who have requested replacement ballots or chosen to vote early.
Weinland advised election judges Monday that, by their vocal and signed oaths, they were agreeing to not disclose anything seen on ballots — no voting trends, no candidate leads or struggles, and so on.
"You can't even tell your spouse," she told the group. "Make like you're a jury and you've been sequestered."
Election judges are paid $11 an hour, tax-exempt. Judge Barb Ficke, who said she lives outside of Steamboat Springs on Twentymile Road, expressed confidence in the copying process after her shift ended Monday.
"It's going pretty smooth," Ficke said.
Judges will continue copying ballots in two, four-hour shifts today. Weinland said she'll add a third shift Wednesday.
"My plan is to work as many hours with as many judges as I can, so there's not a delay in results," she said.
Ballots mailed to voters after Oct. 19 are readable by the county's election system.
Those who received a mailed ballot prior to that date, but haven't returned it, have several options:
■ They can fill out that ballot, return it and have it replicated by election judges.
■ Through 6 p.m. Friday, they can leave that ballot blank, return it and vote electronically at the Routt County Courthouse Annex, where early voting is under way, or vote with a replacement ballot.
■ On Nov. 1 and Nov. 2, which is Election Day, they can return their original ballot and vote with a replacement ballot at the Routt County Clerk and Recorder's Office in the Routt County Courthouse.
■ On Election Day, voters who received a mail-in ballot but did not return it can vote with a provisional ballot at their polling place.